Open Thread -- Rugby Rules, xkcd Edition
Posted on:

11 March 2009

By:

Open Thread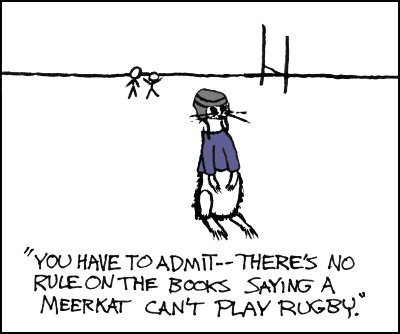 Attribution: xkcd.
1
The radical right-wing attack forces are working themselves up into a frothing fury, poised on the brink of violence. Here's some examples from the recent past:
From clammyc's DailyKos diary Right wing hate speech and violent threats against Democrats on Dec 01, 2007:
A letter containing white powder addressed to then-candidate John Kerry. Two other letters containing white powder did make it to Kerry's office. No word on the culprit and I don't think anyone was punished for this.

John Edwards' office evacuated in May and July 2007 after white powder found in the office and then when "beeping objects" were found. No word on the culprit and I don't think anyone was punished for this.

Keith Olbermann receives envelopes at his home containing white powder. These were sent by someone who admitted to being an "acolyte" of Michele Malkin and Ann Coulter.

Two Democratic Senators, including Tom Daschle were sent anthrax letters in 2001. The investigation has "run cold", even though the strain is one that was reportedly traced back to our own government.
Does it seem like there's a disturbing trend going on? If not, it should. It's gotten far worse, and is nearly out of hand now. The incidence of inappropriate political discourse that calls for the blood of patriots and tyrants using inflammatory rhetoric has gotten out of hand. Right-wing pundit Glenn Beck paints chilling scenarios and pseudo-hero Chuck Norris calls for a rebellion...technically, aren't they one administration and several years too late to do our nation any good? Aside from that, the fact that they'd do so at all, in a way that seems crafted to stir the rabid masses and quite likely to incite violence instead of passive resistance is unconscionable.
Before this gets any further out of control -- before anybody actually does something stupid and innocent people get hurt -- keep an eye on the rhetoric and the reactions of the rabid, and if something looks like it is about to spark a violent reaction, make the call:
Here is the contact page for the US Secret Service.
Here is the contact page for the Federal Bureau of Investigation.2
Over the fold, some more examples of the crazy people and their tendencies toward violence born of delusion and fever-dreams.
This is an Open Thread.
More examples, also from a clammyc diary -- this one called "treason" vs. "TREASON" of Mar 16, 2006:
Ginsburg revealed in a speech in South Africa last month that she and O'Connor were threatened a year ago by someone who called on the Internet for the immediate "patriotic" killing of the justices.

According to Ginsburg, someone in a Web site chat room wrote: "Okay commandoes, here is your first patriotic assignment ... an easy one. Supreme Court Justices Ginsburg and O'Connor have publicly stated that they use (foreign) laws and rulings to decide how to rule on American cases. This is a huge threat to our Republic and Constitutional freedom. ... If you are what you say you are, and NOT armchair patriots, then those two justices will not live another week."

...
TREASON

Conservative commentator Ann Coulter, speaking at a traditionally black college, joked that Justice John Paul Stevens should be poisoned. Coulter had told the Philander Smith College audience Thursday that more conservative justices were needed on the Supreme Court to change the current law on abortion.

Stevens is one of the court's most liberal members. "We need somebody to put rat poisoning in Justice Stevens' creme brulee," Coulter said.

...
TREASON

Fox News host Bill O'Reilly declared on the November 8 broadcast of his nationally syndicated radio show, "[I]f Al Qaeda comes in here and blows you up, we're not going to do anything about it. We're going to say, look, every other place in America is off-limits to you, except San Francisco."

...

TREASON (even more important now that the Iran war drums are beating)


Three intelligence officials who spoke under condition of anonymity told reporter Larisa Alexandrovna of The Raw Story that while Plame was undercover she was involved in an operation identifying and tracking weapons of mass destruction technology to and from Iran, suggesting that her outing "significantly hampered the CIA's ability to monitor nuclear proliferation".

They also stated that the outing of Plame also compromised the identity of other covert operatives who had been working, like Plame, under non-official cover status. These anonymous officials said that CIA work on WMDs has been set back "ten years" as a result of the compromise.

...
TREASON

During an August 2002 interview, Ann Coulter told Gurley: "My only regret with Timothy McVeigh is he did not go to the New York Times Building."
These crazies operate with two totally disparate sets of rules and principles, and the hypocrisy is completely lost on them. We need to be careful to ensure that they, in their feeble-minded foolishness, don't hurt themselves or others. Particularly now, in the moment of our nation's greatest need for cooperation and sanity to lead us away from the dark, rotting shores that we've been docked at for the past 8 years.
Let's be careful out there, ok folks?
And just to be clear, here are the numbers to call if the rhetoric really crosses the line or if you see or suspect a violent act in progress:
Here is the contact page for the US Secret Service.
Here is the contact page for the Federal Bureau of Investigation.2
Peace.
_________________________
Footnote
_________________________
1. From the XKCD site:
_____

Note: You are welcome to reprint occasional comics pretty much anywhere (presentations, papers, blogs with ads, etc). If you're not outright merchandizing, you're probably fine. Just be sure to attribute the comic to xkcd.com.

_____
2. Hat-tip jedley, from Wingnut Violence: A View from the FBI.