Submitted by

Intrepid Libera...

on July 19, 2009 - 21:20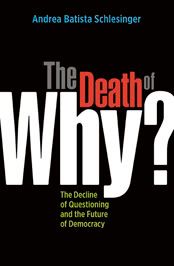 The topic below was originally posted on my blog, the Intrepid Liberal Journal.
The phrase "knowledge is power" is a cliché in our culture. Yet as often as we hear it from others or speak it ourselves, how often have we contemplated the process of acquiring knowledge? Is there a blueprint for obtaining knowledge and wisdom? Are we encouraging children to be intellectually curious or merely teaching them that every question has an instant and obvious answer?
In her book, The Death of Why?: The Decline of Questioning and the Future of Democracy (Berrett-Kohler Publishers), New York City policy expert Andrea Batista Schlesinger writes that,
"Why is the first question most children ask. With this question we express, to the delight and chagrin of our parents, our power.

In my life, questions have always been power. Asking them enabled me to overcome the challenges I faced as a young woman sitting at tables where I didn't automatically belong."
Although only thirty-two, Schlesinger has operated in the arena of policy debates locally in New York City and nationally for over a decade. Since 2002, Schlesinger has applied her background in public policy, politics, and communications to transform the Drum Major Institute ("DMI") into a progressive policy think tank with national impact. During her tenure as Executive Director, DMI created its Marketplace of Ideas series which highlights successful progressive policies from across the country and launched two public policy blogs that reach several thousand readers a day; and embarked on a national program to nurture careers in public policy for college students from underrepresented communities.