Drilling relief wells
Submitted by

Unenergy

on June 22, 2010 - 19:59
The shutdown of the drilling operations is expected to have a substantial impact on the Louisiana economy, as the 33 rigs contemplated in last week's shutdown order probably employ 7,590 people, and each of those is believed to support four other jobs on land.

The Interior Department has released a list of 17 companies with deepwater drilling operations in the Gulf of Mexico that are affected, but it has not disclosed the names of the prospects, rigs or locations, saying the information is proprietary
Source
And of course today
Judge Blocks Drilling Moratorium
NEW ORLEANS (AP) -- A federal judge in New Orleans has blocked a six-month moratorium on new deepwater drilling projects that was imposed in response to the massive Gulf oil spill.Source
There are existing deep water wells in the Gulf of Mexico where, following the discovery that the MMS and the oil industry really can not guarantee another Deepwater Horizon will not happen again, may warrant having an insurance policy in place. That insurance policy could be in the form of redundant relief wells. If an accident happens, the relief well is ready to go with no delay.
Until recently, when BP and other oil companies lobbied the Canadian government and the rules were relaxed in its favor, there had been a requirement for an operating oil rig to identify a rig capable of being mobilized to drill a relief well.
BP Sought To Ease Canada's Policy On Relief Wells - source
"An operator needs to demonstrate that there is a viable system that can be deployed to drill a well, a relief well, in the same season as the original well, should the original well go out of control,"
Canadian oil companies no longer need to have relief-well plans - source
he Harper government has watered down regulations governing oil drilling off Canada's East Coast so that oil companies don't need a backup plan to drill a relief well in the event of a blowout.

Under the previous federal regulations, companies were required to develop contingency plans and have equipment in place to deal with a range of emergencies, including "a situation requiring the drilling of a relief well."
Going back to when this disaster first happened, noladerf and I had a comment conversation where we tried to identify the deepest wells.
The world's deepest oil platform is the floating Independence Hub which is a semisubmersible platform in the Gulf of Mexico in a water depth of 2,414 meters / 8,000 ft.
Now I may have this wrong, (and I hope someone will correct me if I am) but I know that that in Australia a 'hub' connects to multiple wells. So looking at Independence 'hub' we find the following fields listed.
Independence hub 10 Projects (wells?)
Atlas and Atlas NW, Water Depth 2,700 m / 8,910 ft
Callisto, Water Depth 2,406 m / 7,940 ft
Cheyenne, Water Depth 2,739 m / 9,039 ft
Jubilee, Water Depth 2,682 m / 8,851 ft
Merganser, Water Depth 2,408 m / 7,946 ft
Mondo NW, Water Depth 2,549 m / 8,412 ft
Spiderman, Water Depth 2,700 m / 8,910 ft
Vortex, Water Depth 2,543 m / 8,392 ft
San Jacinto, Water Depth 2,392 m / 7,894 ft
ENI (NOC), Water Depth 2,416 m / 7,973 ft
Shell Perdido host are in about 8,000 feet of water
Perdido Silvertip, Water depth 2,812 m / 9,280 ft
Great White, Water depth 2,348 m / 8,045 ft
Tobago, Water depth 2,926 m / 9,656 ft
Trident, Water depth 2,953 / 9,745 ft
From the MMS weekly report of Current Deepwater Activity. It is these, I believe, which would have fallen under the moratorium. :
Tobago, Water Depth 9,627 ft
Great White, Water Depth 7,814 ft
Santa Cruz, Water Depth 6,526 ft
Triton, Water Depth 5,376 ft
Red Hawk, Water Depth 5,334 ft
Mensa, Water Depth 5,292 ft
Macondo, Water Depth 5,161 ft
Macondo, Water Depth 5,159 ft
Hoover, Water Depth 4,804 ft
Vito, Water Depth 4,038 ft
Mirage, Water Depth 4,000 ft
Princess, Water Depth 3,797 ft
Nansen, Water Depth 3,681 ft
Front Runner, Water Depth 3,350 ft
Glider, Water Depth 3,243 ft
Gunnison, Water Depth 3,152
Auger, Water Depth 2,862 ft
Lost ark South, Water Depth 2,722 ft
Appaloosa, Water Depth 2,642 ft
Pyranees, Water Depth 2,095 ft
Krakatoa, Water Depth 2,036 ft
Amberjack, Water Depth 1,030 ft
Boxer, Water Depth 750 ft
There is a list of all wells over 1,000 feet in the Gulf of Mexico, which comes to a totals as follows :
SubSea Boreholes in Water Depths Greater than 1,000 feet
64 wells 1,000 feet to 2,000 feet
46 wells 2,000 feet to 3,000 feet
59 wells 3,000 feet to 4,000 feet
26 wells 4,000 feet to 5,000 feet
Deeper than Deepwater Horizon Macondo well :
21 wells 5,000 feet to 6,000 feet
33 wells 6,000 feet to 7,000 feet
8 wells 7,000 feet to 8,000 feet
10 wells 8,000 feet to 9,000 feet
2 wells 9,000 feet to 10,000 feet
Deepwater Horizon was in water approximately 5,000 feet deep, however a similar blow out and gusher occurred last year in Australian waters which lasted around 3 months at a well depth of only 254 feet.
BP's Gulf Gusher, 'I've seen this movie before', 8 months ago
I have since also received the following map from vet laying out the location of the deeper wells.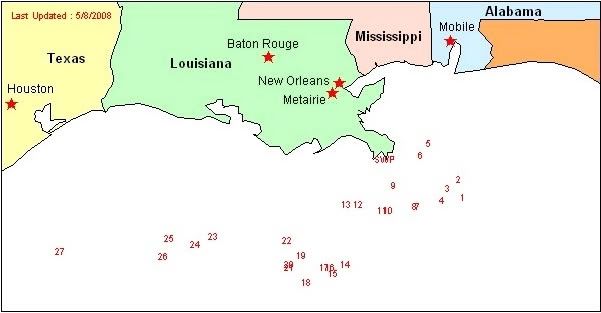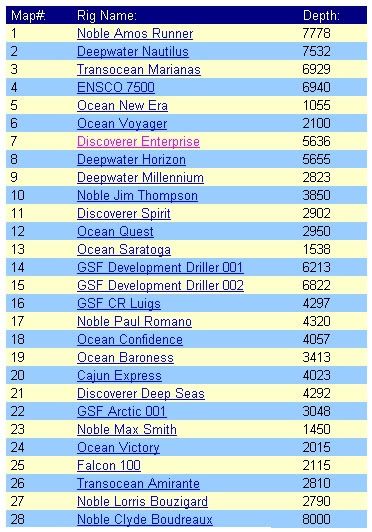 There was some discussion that Norway operate their deep water wells with the requirement that every main bore must have a relief well already in place, just in case of accident, malfeasance or natural disaster. I cannot find a link showing this, and would appreciate confirmation or otherwise.
But the relationship between the MMS, the supposed regulator and the oil companies, has proven to be ineffective in protecting from catastrophic disasters as is now being witnessed on the Gulf Coast. When it comes to taking all care to ensure well engineering integrity, spill preparation, containment and clean up plans are in place, they have failed.
In fact so ineffective that the MMS rubber stamped safety plans where 90% of the content was the same for five oil companies.
We have also learned today, though, that, according to documents released by Congress, other big oil companies have very similar spill response plans. Shell and Chevron said they could take care of 200,000 barrels a day.

And it turns out BP is not the only company that plans to protect walruses in the Gulf. Four of the five oil companies have plans that call for protecting walruses, which, by the way, were not spotted in the Gulf -- well, actually, they were last spotted in the Gulf about three million years ago, according to what I have read.

One more shocker: Three of the companies said they were getting information from an expert, a scientist who has been dead for years.

Four of the companies have plans to protect walruses in the Gulf from a spill -- walruses not having been here for three million years. And then there's this. This is what BP calls its quick guide to a regional oil spill plan. Now, there's a section on safety and a section on spill assessment.

Take a look at this sheet, all right? That's what it looks like. Now check out this one. This is ExxonMobil's quick guide to an oil spill plan in the Gulf. Does it look familiar? It should, because it is virtually identical to the sheet from BP.

Now let me show you Chevron's solution. This is their quick guide to a regional spill. And wouldn't you know, and except for different fonting and maybe a change in a word or two, identical to the versions from BP and ExxonMobil. Finally, ConocoPhillips with a carbon copy of the other guides.

These are -- I mean, these are companies that are making billions of dollars each. - Source
Is it not then solving more than one issue, putting those rig workers who through no fault of their own, are impacted by the moratorium, back to work. By implementing safety standards which require relief wells for all wells over a certain depth or under certain criteria.
I don't know what that depth would be, but with those 21 wells identified above as Deepwater activity lining up with the 20 wells from 7,000 to 8,000 feet, maybe that is a start.
Drill relief wells to give residents of the Gulf Coast the peace of mind, that after they stop the Gulf Gusher at Macondo prospect, if another one occurs, it wont be months and months before it can be stopped because they are waiting for the 'luck of the draw' relief well first getting to depth, then locating that 7 inch bore in 18,000 feet of rock.