Submitted by

Open Thread

on December 23, 2008 - 15:59
For Roxy, from Open Thread. Happy Holidaze!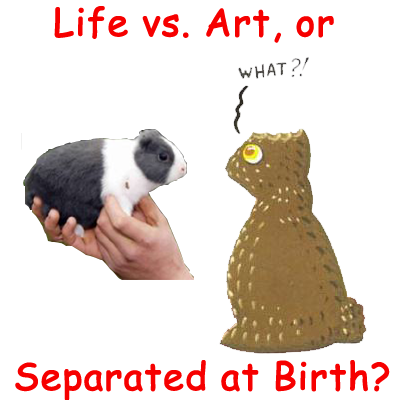 Hat-tip Workingguy.
Just in time for the holidays season, 16 year old John Haig of Burn, North Yorkshire, received a surprising gift among the offspring of his pet rabbit Rosie -- Vincent, the bunny born without ears.
Holidays have always been a time associated with joy and wonder; loss, pain and suffering can be felt ever more accutely during those times, as well, since loneliness tends to set in when one who is suffering is surrounded by revellers.
For this holiday season, keep at least one eye open for folks who are outside the norm -- sad, indifferent, depressed or lonely. Try to include them where appropriate, and be there for them in a quiet, unintrusive way no matter what.
The most genuine gift we have to give in what is often referred to as the "season of giving" is the gift of ourselves.
So, go forth and give heartily, receive with humility and grace, and litter any special comments or experiences you'd like to share in the comments below.
This is an Open Thread.