Submitted by

GreyHawk

on March 6, 2011 - 08:31
In a piece posted to ThinkProgress by Kevin Donohoe titled REPORT: In 22 Statehouses Across the Country, Conservatives Move to Disenfranchise Voters, a disturbingly familiar bit of news:
In statehouses across the country, Republican lawmakers are raising the specter of "voter fraud" to push through legislation that would dramatically restrict the voting rights of college students, rural voters, senior citizens, the disabled and the homeless. As part of their larger effort to silence Main Street, conservatives are pushing through new photo identification laws that would exclude millions from voting, depress Hispanic voter turnout by as much as 10 percent, and cost taxpayers millions of dollars.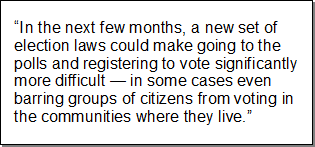 Today's GOP, coupled with the extreme insanity of their Tea Party brethren, has steadfastly pursued an accelerated agenda since they were able to reclaim some of their lost power through the last the election cycle. The previous decade of corruption and abuse, diminished civil rights and undermined social safety nets set the stage. Now, apparently panicking at the thought that they nearly saw all of their dismantling of the New Deal un-done with the transfer of power in the 2008 election cycle, they're scrambling to disable what elements they can and rig anThe ything else that could enhance their chances of keeping their claws on the levers of American power.