Submitted by

ePluribus Media

on March 20, 2011 - 20:22
ePluribus Media is looking for a logo. Specifically, it's looking for a new logo, one that will be more functional as a logo than our traditional trademark graphic. Given the plethora of bright, talented individuals who populate the ePluribus Media and Daily Kos communities and their past participation in the Dick Cheney Halloween Photoshop contest (entries here, votes here), I thought it may be both useful and fun to offer a free ePluribus Media "Don't Clog My Tubes" coffee mug to the winner - whoever designs the best new logo for ePluribus Media. The winner would also be listed on the ePluribus Media "About" page for credit with the logo design and given the option to link to his or her site if they'd like (unless such a link would lead to a NSFW site - sorry).
The blogger's mug features a graphic designed by Roxy the ePM Webmistress and myself, and brought to life through Roxy's own mystickal Photoshop wizardry. Here's the graphic:

And here's what it looks like wrapped around a coffee mug: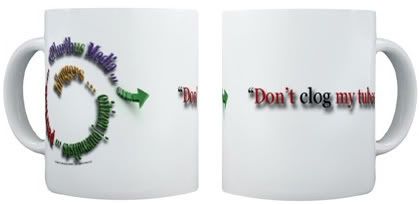 What do you think - are you up for a challenge, in exchange for a stylin' mug? If so, read on...