Submitted by

MichaelCollins

on August 31, 2011 - 22:37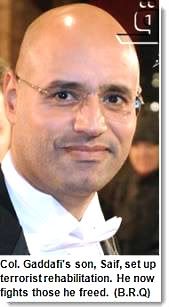 Monday was the day we heard that the "US believes al-Qa'ida is on the verge of defeat after deputy leader's death" as The Independent headlined the story. It stood out as a sequel to the recent United States action in Pakistan, which brought us the news (but not the body) of a dead Osama bin Laden. It appears that a US operated drone killed Al Qaeda's top deputy, one Atiyah Abd al-Rahman, a Libyan citizen. After decades as a jihadist, Rahman is no more. But is that the end of al Qaeda?
On Tuesday, foreign affairs columnist for the Asia Times, Pepe Escobar, published a remarkable column outlining the command structure of the victorious NATO backed military leaders. Abdelhakim Belhaj, the lead commander of the rebels, and the two top regional commanders were once affiliated with the Libyan Islamic Fighting Group (LGIF). In fact, commander Belhaj was once the subject of a US led extraordinary rendition (aka torture) in Thailand. About the time the US planned to send Belhaj to Guantanamo Bay, the Gaddafi's government requested his return to Libya.