Houston
Submitted by

jimstaro

on January 28, 2009 - 15:14
Submitted by

XicanoPwr

on September 25, 2008 - 23:19
Promoted. Originally posted 2008-09-25 21:08:11 -0500. -- GH
XP provides the landmail address at the bottom of this commentary, highlighting here that you can donate online at
ghcf.org
.
As you know, two weeks ago, the Greater Houston Area was hit by Hurricane Ike. Since then, those who have been following my blog or my activities around the Internet, will have noticed I haven't been as active as before. Although I may have come out fine from the hurricane, however, I am still a little shell shocked. It is not like this is my first hurricane. The truth of the matter, there is something about Ike that made this one different than the previous ones I went through, which includes Rita, which I happened to be one of the few bloggers who lived blogged that one. As you know, when Ike finally arrived Saturday morning, the National Hurricane Center reported that the hurricane maintained it's 110mph wind speed, therefore classifying it as a strong category 2 hurricane on the Saffir-Simpson scale, 1 mph shy of becoming a major category 3 (winds 111-130 mph).
In the wake of Hurricane Katrina, there has been an unfair comparison between the tragedies Katrina left behind and the ones left by other storms. In today's post-Katrina coverage, if damage pales in comparison to Katrina, in the eyes the national media, it's not going to be seen as a "big deal."
I understand last week was very chaotic with news of the collapse of Lehman Brothers, the sale of Merrill Lynch and the Fed's bailout of AIG and other campaign news stories -- they also have a strong local angle. However, during that week, it did seem like time stood still for us, while the world passed us by. As a Houstonian, it has been all surreal.
Submitted by

XicanoPwr

on September 13, 2008 - 11:56
Bumped -- XP is in the path of Ike, so this is his live feed. Originally posted 2008-09-12 12:56:37 -0500.

From XP's feed (link above)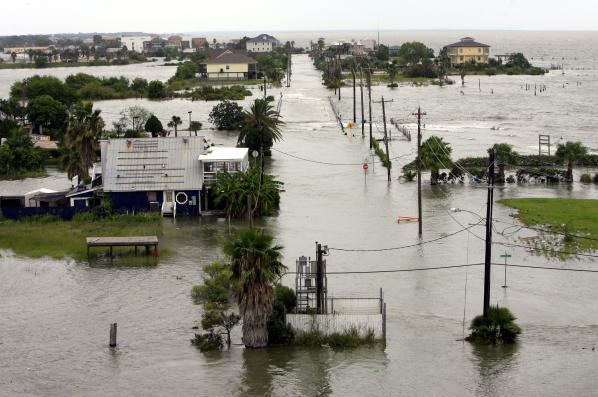 Editor's note: Check out XP's site via the link; he's got YouTube videos over there as well. Amazing...