Submitted by

MichaelCollins

on January 25, 2011 - 16:05
Michael Collins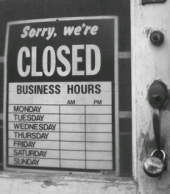 Before it ever arrived at the president's desk for signature, the health reform act contained a fatal poison pill.
The most creative sector of the business community has a dagger at its heart in the form of the relentless, unyielding, and over burdening cost of health insurance. The self-employed and very small businesses have seen their insurance premiums climb 20% to 75% since 2009. To purchase an adequate family plan, a self-employed person will pays an amount 50% to 70% of the nation's median personal income, $32,000 a year, for family health plan. This includes premiums, deductibles, and out of pocket expenses. That is twice the cost for relatively generous plans at medium to large size companies. Very small businesses, two to twenty employees, pay about the same (Image: Paul Henman)
Wasn't health reform supposed to take care of just this sort of inequity? Didn't the title of the bill say it all? The Patient Protection and Affordable Health Care Act There is no protection for the self-employed when they have these stark choices facing them due to unaffordable insurance rates. They can give up working for themselves; buy adequate insurance and take a huge hit to income; buy a substandard plan and hope that whatever comes up is covered; or, abandon insurance at real risk to their health and, in some cases, their lives.