Jim Crow
Submitted by

jimstaro

on July 16, 2009 - 17:27
Submitted by

Wattree

on July 14, 2009 - 17:49
Well, there's that arrogant, xenophobic, and divisive phrase again - "American Exceptionalism."
President Obama is being roundly criticized by many conservatives for refusing to go around the world promoting the conservative vision of American superiority. Their shortsighted idea of effective American diplomacy is for the President of the United States to trot around the globe telling the people of the world that we're better than they are.
Submitted by

BobHiggins

on January 20, 2009 - 10:00
Bumped by carol.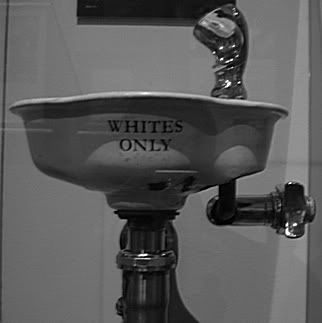 2009-01-19 19:04:33 -0500
Fifty years ago today I was halfway through my sophomore year at WE Stebbins High, an almost completely segregated school in the almost completely segregated city of Dayton, Ohio, a town said at the time to be a southern city that happened to be north of the Mason Dixon line.
The school was "almost completely" segregated because it was located within a good Hail Mary pass of Wright Patterson AFB. I don't remember exactly the reasons but we were told that because the school received federal funds for students who were military dependents that it had to be integrated.
"Integration" was accomplished by the admission of two young Black kids, The boy was named Sam. I remember because we became friends for awhile until the transparent racist displeasure of my little Quaker Grandmother became thick enough to keep him from dropping by. She wasn't ready for a black president.