Submitted by

MichaelCollins

on February 8, 2010 - 08:08
Bank of America Looks Like First of Many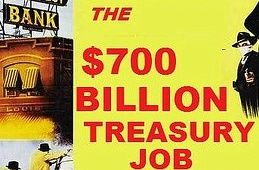 "This merger (Bank of America and Merrill Lynch) is a classic
example of how the actions of our nation's largest financial
institutions led to the near-collapse of our financial system," said
Attorney General Cuomo. "Bank of America, through its top management,
engaged in a concerted effort to deceive shareholders and American
taxpayers at large. This was an arrogant scheme hatched by the bank's
top executives who believed they could play by their own set of rules.
In the end, they committed an enormous fraud and American taxpayers
ended up paying billions for Bank of America's misdeeds." (Image)
New York State Attorney General Andrew Cuomo
Andrew Cuomo's complaint filed in the New York Supreme Court, County
of New York against the Bank of America and two former top executives
has the potential to push that too big to fail entity off the edge of a very steep cliff. The charges of massive fraud are based on a compelling and exhaustive filing on February 4.
A trial will likely involve testimony by the current Bank of America CEO and President Brian Moynihan against defendants Kenneth Lewis, the bank's former CEO and board chairman, former chief financial officer (CFO) Joseph L. Price, and the bank itself. Price is currently in charge of BofA's credit card division.
The complaint charges fraud before, during and after the bank's
merger with struggling brokerage firm Merrill Lynch in late 2008. The
fraud cost bank shareholders and citizens billions of dollars. This is
the first major case brought against our nation's largest financial institutions. These are the same financial institutions and executives that nearly destroyed the economy.