Submitted by

MichaelCollins

on November 12, 2009 - 12:10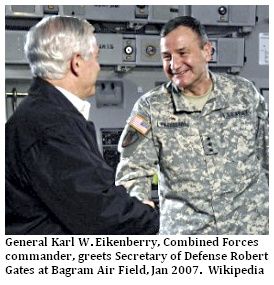 U.S. Afghan Envoy Urges Caution on Troop Increase
"WASHINGTON
-- The United States ambassador to Afghanistan, who once served as the
top American military commander there, has expressed in writing his
reservations about deploying additional troops to the country, three
senior American officials said Wednesday.
"The position of the ambassador, Karl W. Eikenberry, puts him in stark opposition to the current American and NATO commander in Afghanistan, Gen. Stanley A. McChrystal, who has asked for 40,000 more troops. New York Times, Nov. 11
This isn't just any envoy. General Karl Eikenberry
has served two tours of duty in Afghanistan, the second as head of the
Combined Forces Command. After the second Afghan tour, Eikenberry was
Chairman of the NATO
Joint Military Committee. He's a West Point graduate with advanced
degrees from Harvard and Stanford and is fluent in Mandarin Chinese.
General McChrystal has asked for 50,000 troops in early October. By October 28, the president was said to favor a "McChrystal light" number as low as 15,000. On Nov. 7, just four days before Eikenberry's statement, McClatchy Newspapers put Obama's preferred number at 30,000. At this moment, the president is reported have rejected all of the troop increases on the table, according to Associated Press at 12:02 am EDT, today, November 12.
How did we get from McChrystal's request for 50,000 troops
in early October to Eikenberry's "written reservations about deploying
additional troops" just days before President Obama's planned decision?