Submitted by

MichaelCollins

on May 31, 2011 - 03:12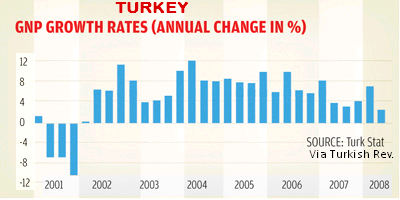 The nation formerly known as the Ottoman Empire is building a strong foundation for a bright future. That nation is also addressing its scandalous recent past as it reaches out to old enemies. The dynamics producing real change in Turkey are well worth understanding. Turkey is on a path to rapid economic growth, cultural liberalization, and will emerge as a key player in world affairs.
The Turkish people elected a new government in 2002. Recep Tayyip Erdoğan became Prime Minister after his AK Party gained an absolute majority in the nation's unicameral legislature. The United States corporate media tagged the AK party as a threat to Turkey's secular democracy. This is, as usual, a perversion of the political and social realities.
Here are the key elements contributing to Turkey's success.