Posted on:

25 June 2008

By:

GreyHawk
For the first time in American history, one of the nominees for President is a non-white male. Another significant first-time achievement for this election cycle is the fact that a woman was one of the most likely alternatives for a viable candidate. And finally, for the first time in recent history, the politics of fear and smear that have become the modus operandi of the Republican noise machine have finally begun to wear thin on the American public, reducing the banality of the shrieking messengers and their flaming notes of fecal detritus to a low-intensity, somewhat irritating buzz almost lost in the background noise of general day to day life.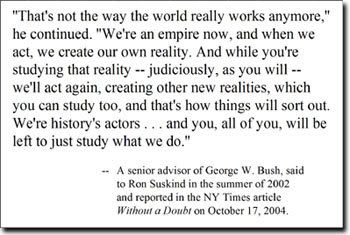 During the rise toward their ultimate heights of hubris, corruption and power, the Republican leadership -- closely aligned with the neoconservative mindset that had infiltrated the Executive Branch and infected a myriad of governmental agencies with politicized agendas -- began to believe that they had, in fact, finally achieved the long sought-after "permanent Republican Majority" that Karl Rove had promised.1 They hadn't -- they had come close, but fate and fortune showed mercy on a nation beset by their arrogance and greed, and their house of cards began to tumble. That never stopped them from believing, even to this day, that their power and influence extends far enough that they can reshape reality into whatever form they wish it to take.
Some of them are beginning to wake from that dangerous delusion, just as most of the nation has begun to cast off the pall from nearly eight years of unchallenged Republican rule.