Submitted by

MichaelCollins

on January 4, 2009 - 07:02
Seating Franken and Burris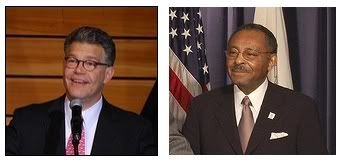 Al Franken (D-MN) left and Roland Burris (D-IL) right
Image cc Image cc

Memo to the U.S. Senate:
Try Following the Rules
We've seen what happens when people don't follow the letter and intent of important laws, particularly those where there is a general consensus and an absence of moral ambiguity. Consider our history from the implosion of Enron through stock market collapse. This extreme damage was enabled by the deliberate defiance, evasion, and perversion of rules and laws, all in the service of personal gain for a very few. Citizens lost $6 trillion in that episode of lawlessness.
President Bush and his administration consistently broke the laws of the United States by illegally tapping phones and emails, "selling" the Iraq invasion based on outright lies, and, in the case of six cabinet officials, participating in the "choreography" of torture sessions. All of them found the Constitution a nuisance and rendered it meaningless by their actions. The cost of these violations is incalculable.
A government gains legitimacy through the ascent to shared rules and laws by the vast majority of citizens. No government can retain legitimacy, however, when the legislature fails to enforce and live by the very laws that they are sworn to protect.
Democrats and Republicans are now unified along party lines in their defiance of the laws. Is this the new national unity we've been hearing about?