Submitted by

Connecticut Man1

on August 20, 2010 - 12:48
As we approach the Miss Universe competition on Monday, I thought it would be fun to revisit with what the current Miss USA, Rima Fakih, was doing leading up to the competition:
Miss USA Rima Fakih of Dearborn told the Free Press she is fasting from sunrise to sunset in accordance with Islamic tradition because it's the holy month of Ramadan even though she's busy preparing for Monday's Miss Universe contest in Las Vegas.

Fakih, the first Arab-American and Muslim to be crowned Miss USA, spoke to the Free Press today over the phone from Las Vegas, where she and beauties from around the world are prepping for Monday's Miss Universe Contest with a hectic schedule full of events and appearances.
There has been a lot of promotional stuff for Miss USA to do leading up to the Miss Universie competition:
Sin City and sultry photo sessions don't stop Miss USA from fasting for Ramadan

When the ninth month of the Islamic calendar descends upon the Muslim faithful, it doesn't pause for anyone. Even when you're the high pageant priestess of an entire country.

So hijabs off to Miss USA, Rima Fakih. Despite her gruelingly seductive schedule preparing for the Miss Universe competition on Monday night, Fakih doesn't let the dutiful doldrums get to the good Muslim girl in her.

Perhaps Las Vegas, body paint, and sexy semi-nude shoots don't exactly meet the traditional definition of devotion. But fasting for Ramadan from sunrise to sunset, according to Fakih, is not an option - it's an obligation.
This is Bunny Salad Blogging... So the gratuitous photo seekers will not be disappointed when it comes to the sexy semi-nude shoot, as I have included it in the post.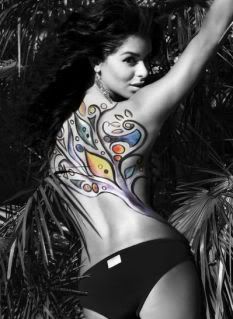 And I may just post more pictures of Rima Fakih... If you can convince me to by clicking through below the fold...
Miss USA recently released a video including a message to President Obama and a peek at preperations of a costume to be worn in tribute to the USA:
Before you go any further below the fold of this post, a quick note about Bunny Salad Blogging:
What may become a sometime feature at ePluribus Media because no red blooded American can resist bunny salad.

Think of it as an open thread for entertaining and non political stuff - posts, images, etc. - that you like but were afraid to post on it at a "serious political Blog".
Now... Feel free to dive in below the fold for more bunny salad, including Glamour's top ten sexy men, a little more background on Miss USA and, if you convinced me by clicking through, more Rima Fakih pictures. :)