Submitted by

MichaelCollins

on June 22, 2010 - 04:24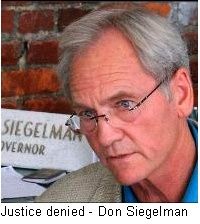 Should Elena Kagan be approved as a justice to serve on the Supreme Court of the United States?
As it turns out there's a supremely simple method of testing her suitability. Once applied, citizens of any political persuasion will see that her nomination should be rejected outright.
As Solicitor General of the United States, Kagan argued against an appeal to the Supreme Court by former Alabama Governor, Don Siegelman in November, 2009. The Siegelman prosecution is viewed by many as one of the gravest injustices of the modern era, a purely political prosecution initiated by the Gonzales Justice Department.
Forty four former state attorneys general were so concerned that they issued a public petition on Siegelman's behalf in 2007. The petition to the United States House of Representatives urged prompt investigation of the many shady dealings in the Siegelman case, before, during and after his trial. They framed their petition in this simple sentence: "The U.S. justice system should be above reproach." It wasn't.