Submitted by

MichaelCollins

on June 4, 2010 - 05:57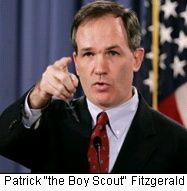 You remember him, the supposedly squeaky clean U.S. Attorney who was going to get the slackers responsible for outing CIA agent Valerie Plame. Yeah, that guy.
He's prosecuting the flamboyant former governor of Illinois right now, the still honorable and innocent Rod Blagojevich. The case is being tried in in the United States District Court in Chicago. You won't believe the charges: 1) devising and participating in a scheme "to defraud the State of Illinois and the people of the State of Illinois of (his) honest services" and 2) offering a contract to the Chicago Tribune to dump some editorial writers critical of his administration.
The second charge is a no-brainer. Corporations buy influence with politicians in a variety of ways. Politicians deliver the goods and ask for favors in return. It's customary practice in the corridors of private and public power. Fitzgerald might as well indict just about everyone in the 111th Congress if he's actually serious. Forget about it Mr. Prosecutor, that's a non starter.
It's the first charge that is of greater interest, denying the people and the government of a honest services by an elected or appointed official. This is very close to the law used in the Nixon Articles of Impeachment. It means you got paid but didn't do your job because you were too busy breaking the law.
Guess what? Fitzgerald himself, the peerless prosecutor, is guilty of those same charges and I can prove it.