Submitted by

MichaelCollins

on August 26, 2010 - 06:48
Michael Collins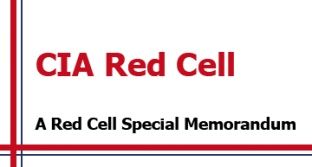 Wikileaks offered its first release since the controversial distribution of documents related to the United States effort in Afghanistan.
The current leak was posted to their web site on August 25. It is titled CIA Red Cell Memorandum on United States "exporting terrorism", 2 Feb 2010.
The leak describes Red Cell as a CIA unit created by the Director to develop "out-of-the-box" analysis offering "alternative viewpoints" on key intelligence issues.
This document doesn't disappoint in being out-of-the-box.
CIA Perception Management - How the World Sees the United States
CIA Red Cell starts out by stating, "This report examines the implications of what it would mean for the US to be seen increasingly as an incubator and exporter of terrorism." Don't hold your breath. There's nothing there about the School of the Americas, the shock and awe invasion of Iraq and the carnage that entailed, or 300 dead Panamanians and United States soldiers as a result of the 1981 manhunt for General Manuel Noriega, a former US asset.