Submitted by

Open Thread

on September 3, 2011 - 10:19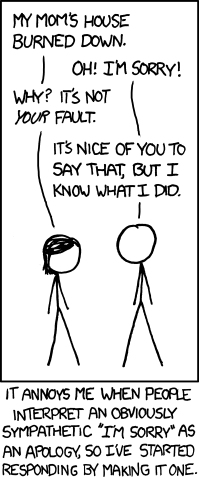 Click to enlarge. Attribution: xkcd.
1
With all the back-and-forth blaming of one party or person for things that - realistically - are rather silly or ridiculous, it would certainly be nice for the "comity" of political discourse to be reinforced by actual, factual call-outs and admissions of responsibility.
Of course, then some nutcakes may find a new way to undermine ~that~ concept and start taking responsibility for equally ridiculous things.
Anywho, it's Saturday, 3 September 2011. Comments are open - remember, this is an Open Thread.
Namaste.
Only footnote references - and comments - appear over-the-fold.