CrissCrossingOhio Word Puzzle: June Clues Page
Submitted by

John Michael Sp...

on June 24, 2008 - 15:12
CrissCrossingOhio
Are you puzzled by government in general and Ohio government in particular? Don't have a clue about what's happening, what it means or who's responsible for it?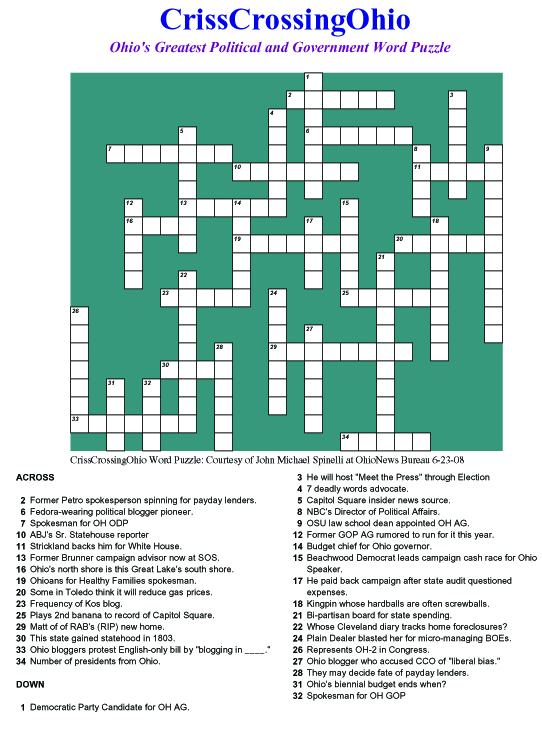 The OhioNews Bureau is posting the June edition of CrissCrossingOhio, the Buckeye State's first and greatest political and government word puzzle. CrissCrossingOhio offers up tantalizing clues – and then gives you the answers. Test your knowledge of Ohio politics and government. Brush up on the Ohio Legislature, state agencies, politics and politicians and much more.
From today's breaking news and the people making it to fun facts and figures that include a pinch of history and a surprise or two along the way, CrissCrossing Ohio is a fun and easy way to improve your Ohio IQ. From pages and interns to elected and appointed public officials, CrissCrossing Ohio is recommended for people of all ages as a way to take your Ohio I.Q of important and trivial information to a new level.
Whether you wander through the Ohio blogosphere on a regular basis or are just content to read the front page headlines of your local newspaper, spending time with CrissCrossingOhio will improve your I.Q. on Ohio politics, politicians, the state legislature, state agencies and other noteworthy facts or figures about Ohio. By spending just a few minutes with CrissCrossingOhio, you will sharpen your knowledge of current events and the newsmakers behind them and boost your general understanding of Ohio through the years. Tips for using CrissCrossing Ohio: Send it to friends, co-workers or clients. Have a contest or just use it for pop quizzes at work or home.
The OhioNews Bureau will feature a new CrissCrossingOhio word puzzle the third Monday of each month. The CrissCrossingOhio solution page will be published the following day.
To crisscross CrissCrossingOhio interactively, click here and enjoy.
If you have a clue and an answer you'd like to submit for consideration for a future CrissCrossingOhio or you would like to partner with me on a word puzzle around a specific theme or topic, email your name, address and phone number to me at ohionewsbureau@gmail.com