Health Reform and Costs - They Are Lying To You (Obama too)
Submitted by

carol white

on February 25, 2009 - 11:32
by DrSteveB
Wed Feb 25, 2009 at 05:52:11 AM PST
As President Obama said last night, controlling health care costs is critical. Unfortunately his proposal and that of Baucus, Wyden, and the rest of them do not control costs.
I am sorry to say that when they talk about the need to control costs and use that as an argument to promote their proposals (while keeping single payer off the table) they are knowingly lying to you.
Their proposals all increase total costs.
Only "Expanded and Improved Medicare for All" single-payer like proposals do control costs.
Total Change in National Health Expenditures, in 2010 (in Billions) Under Different Health Reform Proposals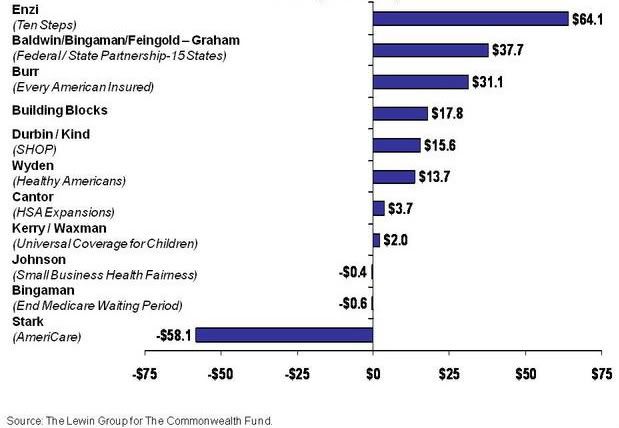 Representatative Peter Stark's proposal is being used here to represent all "Medicare for All" like plans.
Building Blocks (i.e. build on what we have now) is the generic version of "keep the private insurance plans in place and increase coverage with mandates" per what President Obama and Senator Baucus are proposing.
Yup: Medicare for All is the economically conservative fiscally responsible plan!
But please don't take my word for it.
These charts and analysis are from the independent analysis by Commonwealth Fund which does NOT support single (they support the Building Blocks plan), like Clinton proposed during the campaign and Baucus and Obama are pushing now), and their partner in analysis is the corporate mainstream industry gold-standard Lewin Group (which is actually owned by United Health and so if biased, certainly is biased against single payer).
Here is what is really going on.
Change in Health Spending by Stakeholder Group, Billions of Dollars, 2010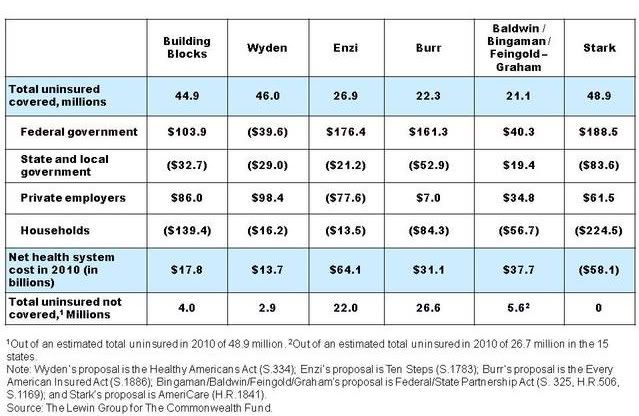 What that table is showing is that all those other proposals -- not only those of Republicans Enzi, Baldwin and Burr, but alas even Building Blocks (aka: Obama and Baucus) and Wyden's -- amount to huge giveaways and bailouts for the private insurance companies. The mainstream Democrat "Building Blocks" plan increases costs overall, and to the federal government and for employers. So when they talk about cost control they know they are lying. Indeed, while the bipartisan Wyden plan saves the Federal Government money, it actually increases total costs even more and dumps those cost onto everybody else: states, employers, families and individuals. So when somebody talks about the CBO analysis showing Wyden's plan is somehow good (revenue neutral or saving the Federal government money), ask them if they know how it effects total costs and who pays more instead. They are all being at best completely disingenuous. Or just lying.
Among the plans that Commonwealth/Lewin looked at, only the Stark Plan (standing in, according to Commonwealth, for all versions of Medicare for All-like proposals, including Conyers HR-676) actually saves money for the overall system, the country as a whole. More on the differences between Stark and Conyers and why Commonwealth did not analyze Conyers is here.
This is no surprise really. GAO and CBO found the same thing in the 1990s when they analyzed single payer and found it really controlled costs and saved money. More recently, The Lewin Group has found the same thing repeatedly in analyses of state-ledvel single payer proposals.
Again, even opponents agree: only Single-Payer like plans can actually control overall total costs.
Oh, yeah it also is the only one that:
is Universal, covers everybody, 100%
is Comprehensive covers all health care
Has no endless co-pays, deductibles, out of coverage, no medical bankruptcies
Is supported by supported by 60% of the American people (outside of the beltway).
But inside the beltway they keep saying it is "off the table."
Why?
What are you going to do about it?
cross posted at DKos by Dr. Steve.