New M/E War Looming as Israeli Bombs Gaza
Submitted by

carol white

on December 29, 2008 - 09:50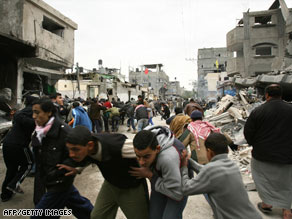 Palestinian civilians run during an Israeli airstrike in the Jabalya refugee camp in Gaza on Monday, CNN News report.
She spoke as Israeli planes fired missiles on Gaza City. Militants in Gaza had fired more than 40 missiles into southern Israel on Monday, killing one person, Israeli police said.
"People are very agitated because the bombings are now concentrating on individual houses and individual families, apparently," AbuZayd said. "So one's never quite sure where it's going to be."
"People are beginning to fight among themselves, and it's just a chaotic time, she said.
This is the third day of that Israeli's having been pounding population dense Gaza, Israeli troops have sealed in the area, creating seige conditions and a looming huminatarian disaster.