Now that we are in: what to ask for at Health Summit
Submitted by

Connecticut Man1

on March 4, 2009 - 22:45
Wed Mar 04, 2009 at 10:20:49 PM EST
As of now we know that among the 120 people invitd to the White House Health Summit there are two single payer advocates: Representative John Conyers the lead sponsor for HR-676 and Dr. Oli Fein the president of PNHP.
My suggestion for what would seem to be a non-radical, non-shrill, non-extremist request/get:
"There must be a complete, honest, side-by-side comparison of all proposals, including HR-676, by the Congressional Budget Office"
Not just what Senator Baucus pre-determines to allow.
What are they afraid of?
Let there be a honest and open debate, comparing all the true total costs all proposals!
As we know, the many prior analysis, recently by Lewin Group for many state single payer proposals, and older for national bills by both the GAO and CBO, all suggest that only single payer can control total costs and costs to individuals while providing coverage that is both truly universal and comprehensive.
The most recent comparison by Lewin for Commonwealth was very revealing in comparing who pays what: Neither "Building Blocks" standing in for Baucus/Obama nor Wyden-Bennett could control total costs, which skyrocket under both. Wyden disengenuously shoves costs from the Federal side, to States, employers and individuals. Of the plans compared, only Stark's non-single payer verion of "Improved and Expanded Medicare for Most" (which Commonwealth/Lewin says they used to represent all such proposals including ours) actually controlled total national costs and total direct costs to individuals, while also providing universal and comprehensive coverage. Here is how it looks:
Total Change in National Health Expenditures, in 2010 (in Billions) Under Different Health Reform Proposals: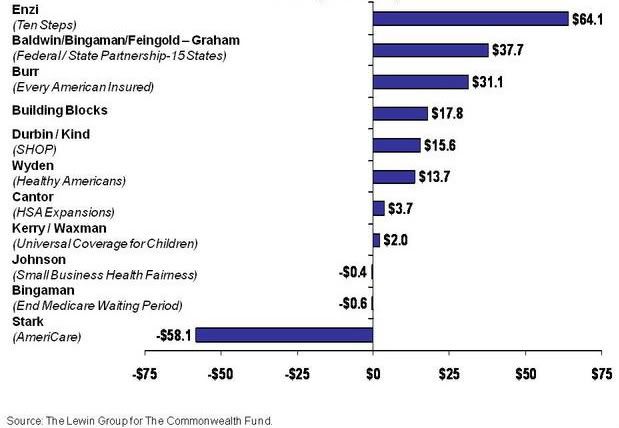 and
Change in Health Spending by Stakeholder Group, Billions of Dollars, 2010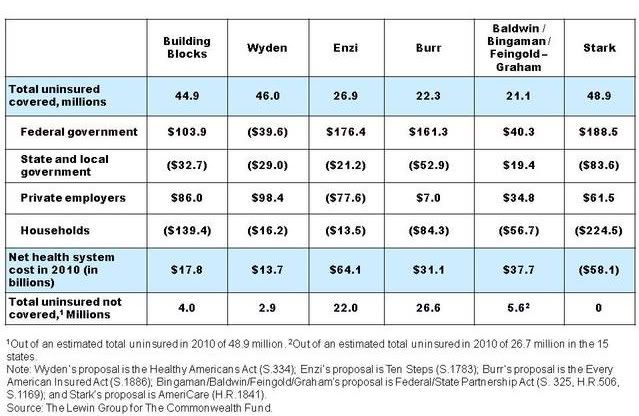 Single payer wins, when given a honest hearing.
What are they afraid of?
The truth.
Other proposals including Baucus and Wyden cannot stand the full light of day and a thorough honest comparison.
So they have to try to take single Payer off the table without full and honest numbers.
Let there be a complete and honest debate with real numbers and real side-by-side comparisons.
Suggestions to call:
The White House (202) 456-1414 or (202) 456-1111.
Democrats on the Senate Finance Committee:
Max Baucus, Chair, (202) 224-2651
John D Rockefeller IV (202) 224-6472
Kent Conrad (202) 224-2043
Jeff Bingaman (202) 224-5521
John Kerry (202) 224- 2742
Blanche Lincoln (202) 224-4843
Ron Wyden (202) 224-5244
Charles Schumer (202) 224-6542
Debbie Stabenow (202) 224-4822
Maria Cantwell (202) 224-3441
Bill Nelson (202) 224-5274
Robert Menendez (202) 224-4744
Thomas Carper (202) 224-2441
Edward Kennedy (202) 224-4543
Harry Reid (202) 224-3542
P.S.:
So far as I know, CNA/NNOC are still being shut-out, on the basis that they are already represented by the AFL-CIO, according to a Congressional Quarterly report from this afternoon. No word about HealthCare-Now or Progressive Democrats of America or Public Citizen, or the dozens of other groups that are part of the leadership coalition for single payer.
In addition to the phone calls and emails by lots of us, PNHP had been planning a rally, wearing our doctors' White Coats at the White House, to call attention to being left out. Maybe all this helped. Or maybe it was theater all along: they say no, we complain, they let in a token representation, but no change in policy is made. We shall see!?!
[cross-pollinated seeds of thought from dKos with the permission of DrSteveB for ePM's ongoing health care coverage - CM1]