Obama Supporters, "Get Off Your Duffs...."
Submitted by

icebergslim

on April 30, 2008 - 11:16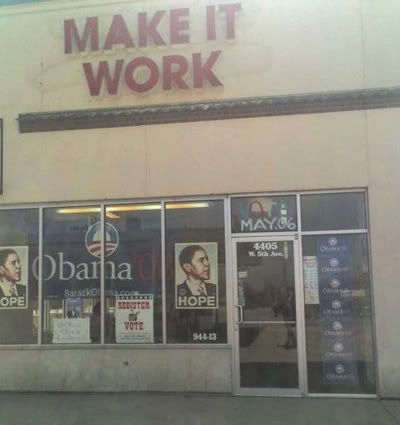 gary, indiana
Yes.
MAKE.IT.WORK.....
That is what this campaign is about, Making it Work, for Americans.
::
I could have titled is differently, but you know what I mean.
Time to get busy.
First, today is April 30, 2008. Last day of the month of April. If you have not donated do so. But I will even entice you. Want to purchase any Obama Gear, get 20% off any purchase by inputting TEXT08 in the field while checking out at the Obama Store. The campaign is getting new merchandise everyday, so take advantage now, because it ends midnight, tonight, April 30, 2008.
Don't want any merchandise? Well, if you like to yap on the phone, there are in the thousands to yap to in Indiana and North Carolina. Believe me, your talking talents will be well appreciated.
Enjoy the presence of people? Love conversation, in person, in the flesh? Need to look that person in the eye while talking, one-on-one? Well, Indiana and North Carolina is taylor made for YOU!! Live close by, or even not so close? Well, jump in that car and help the campaign by canvassing, volunterring in the office, GOTV on Tuesday. Your flesh will be greatly appreciated.
Bogged down with life? Lazy? Love to sit in front of your computer reading me? Well, you are a click away from donating today to help fund this campaign through June 3rd. We have many other contests, post May 6th, and we need the funds. So, while you are reading this, pop out that credit card or debit card and donate to this campaign. $5 bucks it the least you can do. Remember, this is the only people-powered campaign out there. The Obama Campaign.
Limited Edition Vote For Change Magnet with a $15.00 donation or better.
Wow, you have so many selections to chose from today??? What other campaign is offering this? And discounts on merchandise to boot?
Make your move. Make it to The Obama for America Campaign. You will never regret it.
And I am in Indiana on FRIDAY, no excuses if you live in Chicago. You should already be in Indiana, NOW.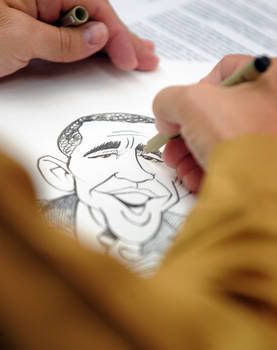 ::
icebergslim1047 (at) gmail (dot) com
This Week With Barack Obama