Ratings Rule in Obama's "Virtual" Cabinet - Corporate Media's Sanjay Gupta, MD for Top Doc
Submitted by

MichaelCollins

on January 8, 2009 - 17:33
originally published 2009-01-07 23:08:11 -1000 - promoted by roxy
Ratings Rule in Obama's "Virtual" Cabinet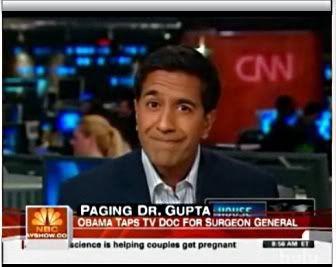 Will Gupta's ratings explode with Surgeon General nod?
Corporate Media's Sanjay Gupta, MD for Top Doc
The appointment of television celebrity, Dr. Sanjay Gupta, MD, as Surgeon General of the United States looks like the boldest step yet in the creation of a "virtual" cabinet by President-elect Barack Obama.
It's looking like cabinet members are being selected on the basis of "marketability and comfort" rather than qualifications and ideology, with two or three exceptions.
Gupta looks like a trial balloon for the full implementation of virtual politics. Unlike the first wave of appointments which portrayed "comforting stability," Gupta provides both the comfort factor and a near total absence of qualifications.
Previous Obama cabinet picks emphasized the absence of clear ideology while paying lip service to qualifications. For example, Timothy Geithner, the Secretary of Treasury pick, and Larry Summers, named to head the National Economic Council, both seem to have impressive resumes in banking and finance. Obama insiders made what appears to be a safe bet that the public wouldn't notice that both were up to their necks in the recent economic crash and tens of billions in Wall Street welfare.
Summers helped repeal key provisions of the federal Glass-Steagall Act in 1999. These provisions have been in place since the Great Depression. They kept banks from trading in high risk securities. With the reins loosened, banks recklessly invested billions in high risk schemes that led to the recent crash. At the signing ceremony in 1999, Summers said to the New York Times: "With this bill the American financial system takes a major step forward toward the 21st Century -- one that will benefit American consumers, business and the national economy." Some step. Some century.
As head of the New York Federal Reserve Bank, Geithner gave an interview to Jenny Anderson of the New York Times in Feb. 2007. When asked about the high risk credit derivatives market, a risk he claimed that he'd addressed, Geithner said: "The fact that the banks are stronger and risk is spread more broadly should make the system more stable. We can't know that with certainty though. We'll have a test of that when things next threaten to fall apart." Will anybody mention that we've had Mr. Geithner's anticipated "test" and things did "fall apart" because the banks were weaker not "stronger."
Team Obama's attitude seems to be, 'Who cares! Those were one day stories. After all, these guys look good on paper and we can handle the storyline from here.'
The duties of the U.S. Surgeon General include: acting as the chief advocate for programs that promote public health; articulating "scientifically based health policy;" promoting national health initiatives; and administering the doctors and personnel of the Public Health Service. While party affiliation plays a role, the criteria for the job are a distinguished career in medicine and a strong interest in assuring the public well being. The office is typically occupied by a physician with a strong background in public health.
Former Surgeon General C. Everett Koop, MD, appointed by Pres. Reagan in 1981, was a controversial choice for the position due to his outspoken opposition to abortion. By presidential request, Koop began a study of HIV AIDS at the start of 1986, wrote a report, and arranged for delivery to 107 million homes by the end of the year. It was an accurate, honest, assessment of the risks of AIDS without any judgment as to the causes. He knew the science and spoke out forcefully. He did this over the objections of Reagan loyalists who wanted to avoid the topic and regularly sought to have Koop fired.
Gupta is both absent any discernable political ideology and clearly lacks the traditional qualifications for the position of Surgeon General. This fits nicely into the virtual cabinet model. He looks good on television and corporate America finds him "easy to dance to."
In addition, Gupta earned his corporate media spurs with his "hit job" on Michael Moore's powerful and popular film, "Sicko" which showed the inadequacies of our health care delivery system.
Gupta tried to discredit Moore's favorable reports on national health programs in Canada, France, and Cuba by referencing a leading health industry figure who had ridiculed the programs. Moore responded that the expert was aligned with big pharma and health insurance companies, a point Gupta vigorously denied. Gupta was wrong. The expert was heavily affiliated with corporate health industry interests. Gupta either didn't know this or he deliberately lied.
Frank Rich described what we may see more of with Surgeon General Gupta, MD. The television doctor was an embedded medical reporter during the Iraq invasion. He operated on a two year old Iraqi boy with a serious head injury. CNN ran promotions of the surgery "all day long." In the 2003 column, Rich noted: "Lest anyone not grasp the most important moral of this incident, Dr. Gupta himself declared that 'it was a heroic attempt to try to save the child's life'' after the child had died.'"
Gupta pitched an updated version of MASH as a television series a year later based on his Iraq experience.
We've reached an important milestone in the Orwellian world of U.S. politics. The pretence of reality has been dropped. Rather than simply keeping the people from being upset, the new virtual cabinet approach will sooth us with virtual reality featuring familiar faces and a comforting storyline.
Hopefully, citizens will have better luck with public health than Dr. Gupta had with his Iraqi patient.
END
Permission to reproduce in part or in whole with attribution of authorship and a link to this article.