Ron Paul's Rally for the Republic Challenges McCain, Imperial Republicans
Submitted by

MichaelCollins

on September 1, 2008 - 13:38
Ron Paul's Rally for the Republic
Challenges McCain, Imperial Republicans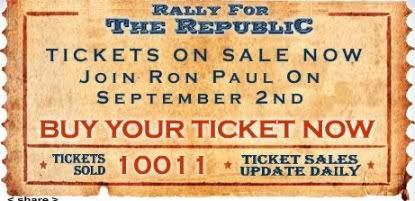 Michael Collins
Washington, DC
There's a bold new look to the Republican Convention in Minnesota and it's not the former Miss Alaska aspirant Gov. Susan Palin, McCain's surprise choice for vice president.
The Rally for the Republic will celebrate the candidacy of Ron Paul (R-TX) for president and the broader movement of Republicans fed up with the degradation of governance and the nation under the Bush-Cheney regime. This is a significant event given Paul's performance in the presidential primaries.
He made major inroads in primary contests throughout the nation despite being dismissed by the major media and questionable vote counting in states with electronic voting devices. These worst in class technologies take and count votes in secret. In addition to the many studies showing the machines vulnerability to tampering, the name of Republican mastermind Karl Rove has surfaced in a major election fraud case in Ohio federal court.
Nevertheless, the Paul campaign energized paleo-conservatives and Libertarian leaning Republicans and independents who embraced his vision to end meaningless foreign adventures, implement unrestricted competition for business, and restore civil liberties removed in the past seven years.
Paul started out by winning 10% of the popular vote in New Hampshire, three points behind McCain's 13%. He placed second in the following primaries (by state population): Pennsylvania (16%), Indiana (8%), Oregon (15%), Nevada (14% caucus), New Mexico (14%), Nebraska (13%), Idaho (24%), Montana (22% - primary), Montana (25% caucus), South Dakota (17%).
These totals, particularly in hotly contested Pennsylvania and politically unpredictable Oregon, must have McCain strategists thinking (as it were). It could mean simply writing off Oregon and putting even more resources than they had planned into Pennsylvania. New Mexico and Nevada are two states that could go either way, presenting another resource demand on McCain, who trails Obama three to one among small donors.
Congressman Paul will speak Monday, Sept. 1, for an hour at 10:00 pm, Central Daylight Time, and for another hour on Tuesday at 7:05, CDT. The entire event will be covered on web cast by RepublicMedia.TV with full commentary and interviews and also by C-Span.
Image: Campaign for Liberty
The political training seminars on Sunday Aug. 31st were sold out. The featured event, Paul's Tuesday speech, has sold 10,000 plus tickets as of early Monday morning.
Rally organizers had a special message for those coming by land: "Fellow travelers, Here you will find information for travel to Minneapolis via Ronvoy (a fleet of vans and buses carrying Ron Paul Revolutionaries)." Tickets from New York City, Los Angeles and Austin are $20.00, with some locations charging even less for bus travel to the Minneapolis rally.
While many on the left disagree with his economic policies, Paul's positions on foreign adventures, Iraq and Iran most recently, are directly in line with antiwar activists. A report on the New Hampshire Republican primary debate stated:.
"When asked, Paul stated that the 'acceptance of preemptive war' was the most pressing moral issue in the United States today, further stating that we 'can't change the world by force.' Paul also said that the nation's security is 'more threatened' by continued United States military activity in Iraq than it would be if the United States left Iraq today. -- He further said that our foreign policy was 'designed to protect oil interests' and that the United States is 'literally fighting wars over oil." C. M. Paulson, Associated Content, June 7, 2007
Commenting in the House of Representatives on the "war on terror," Paul said,
"It's deliberately vague and non definable to justify and permit perpetual war anywhere under any circumstances. Don't forget the Iraqis and Saddam Hussein had nothing to do with any attack against us, including that on 9/11.
"Americans no longer need be killed or maimed and Americans no longer need to kill Iraqi's. We've had enough of both." U.S. House of Representatives
There differences between the Paul movement and the current Republican Party are too profound to imagine any benefit to the Republicans from his supporters. McCain's staff may be worried about these energized Pauli's distracting from his ratification as the standard bearer for the policies of the imperial Republicans. There focus will quickly turn to the states listed above where Paul made impressive showings among Republicans.
At the same time, Paul's domestic program seeks to sharply contain social welfare programs. This may make the candidacy of Democrat Barack Obama an unlikely port in the storm of U.S. politics.
The real impact on the 2008 presidential election is the threat to the Republican base. In 2000, the rural segment accounted for 23% of the total vote count. In 2004, that "red" segment dropped to 16%. Bush won there by a substantial percentage but his 2000 rural vote count was down by 2.4 million from 2004.
Now the McCain camp sees a highly energized, ideologically intense segment of the party holding a "counter convention" in the other "Twin City," Minneapolis. They must be wondering what happens if Paul's block goes elsewhere and those disaffected rural voters stay home again.
If Paul supporters stay home or coalesce around a third party candidate, it will have a substantial impact on McCain and his running mate. The expected bump in Alaska will hardly compensate.
Regardless of what happens, this movement shows strong signs of enduring over the long term.

END

Permission granted to reproduce this article in whole or part with attribution of authorship and a link to this article
Live web cast coverage by RepublicMedia.TV
Ron Paul supporters meet Fox News' Sean Hannity on the cold streets of Manchester, NH: "We're not falling for it any more."
Did you know that Bush won election 2004 in the big cities? Election 2004: The Urban Legend
*************