Unbelievable! CNN narrows the Field of Candidates!
Submitted by

jamess

on January 15, 2008 - 10:32
Minor adjustment and edit by GreyHawk. See comments...

Revised by Carol, No changes but update.I had a series of physical mishaps last week and so was not ontop of all the exciting (and otherwise) posts. The way that CNN deliberate shapes the political debate is not only infuriating but dangerous. By substituting lies and trivia and a good dose of horse rate mentality into their coverage, they no doubt succeed in channelling voters thinking, even I imagine critics such as myself. So I am front-paging this now to bring more intention to the situation.
I have done this by using the "revision" button. I have changed nothing in the text. I am not sure how this works but we shall all see.
Once again in the Corporate Media makes an "Executive Decision", about who America should see as their Viable Choices:
Hillary Clinton
Barack Obama
John McCain
Rudy Giuliani
Mike Huckabee
Mitt Romney
Only these Candidates were the Focus of the latest CNN Poll
Where is John Edwards in this Poll?
(for that matter where is Ron Paul?)
[Edwards has done better than Giuliani, by a long shot!]
So much for Free Speech! So much for the Democratic Process playing itself out! So much for letting the People decide.
The Media Executives apparently feel it's their Constitutional Right to narrow down your choices for you -- They Know What's best for us!
(Or is it really they know what's best for them?)
New Poll results from that COM (Corporate Owned Media) with the "best political team on Television":
CNN Opinion Poll

Interviews with 1,033 adult Americans conducted by telephone by Opinion Research Corporation on January 9-10, 2008. The margin of sampling error for results based on the total sample is plus or minus 3 percentage points.

FOR RELEASE: SATURDAY, JANUARY 12 AT 2 PM
Here is a typical Question from this Poll, using their "filtered" version of reality:
11. For each of the following candidates, please tell me whether you will definitely vote for that person in November if they won their party's nomination, whether you might consider voting for that person, or whether you will definitely not vote for that person in November. (RANDOM ORDER)

Definitely For | Consider Voting for | Definitely Not Vote for | No Opinion

Hillary Clinton 37% 19% 43% *
Barack Obama 30% 32% 38% *
John McCain 22% 35% 43% *
Rudy Giuliani 19% 25% 55% *
Mike Huckabee 15% 31% 52% 1%
Mitt Romney 13% 25% 62% 1%
A search of this entire Poll, shows Edwards Name is NOT mentioned anywhere! ... (apparently he "was abducted by Aliens"!)


Did Edwards quit Running?
Did Edwards do worse than Giuliani or Romney?


What gives CNN the Right to Censor Edwards from this Opinion Poll?
(An Opinion Poll that the Media Bobble-heads, will no doubt repeat at nauseum for the next week, too.)
Could it be that CNN did not quite like the Results, when Edwards was included in their last Poll?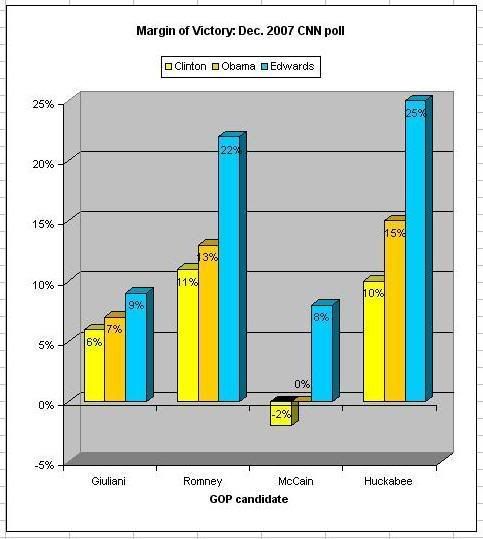 CNN poll: Edwards DESTROYS GOP candidates (with graphs!)
by BruinKid - Thu Dec 13, 2007


Maybe CNN was worried about another strong showing by Edwards, if he was included in their Jan. Poll?
This is simply Outrageous!
No matter which Candidate you support, the Media should not be empowered to make arbitrary decisions like this!
In my opinion, if John Edwards received half the coverage that Obama and Clinton have, the results of those 1st two elections would have been very different.

The corporate media blackout of John Edwards gets worse
by JedReport - Sat Jan 05, 2008


The Constitution vested the power to pick our Candidates with us -- WE the People
And NOT Them the Corporate Media!


Where will this Media's "streamlining of reality" end?
They sold us the Iraq War, with a smile and a cheer -- what will they try to sell us next?


If you care about Free Speech and a free and open and fair Democratic Process -- Please let CNN know how you feel:

CNN@cnn.com


while your at it give these other sponsors of the "powers that be" a piece of your mind too:
hardball@msnbc.com
today@nbc.com
nightlynews@nbc.com
evening@cbsnews.com
wnn@abcnews.com
viewerservices@msnbc.com


It really is time to take OUR Country Back!
John Edwards is right: Enough is Enough!
thank you.
--------- [some Fun Facts] -------------
Current Delegate Count
Obama 25
Clinton 24
Edwards 19
Kucinich 0
Romney 21
Huckabee 14
McCain 12
Thompson 8
Paul 4
Hunter 1
Giullani 1
http://mydd.com/
Looks like Corporate Media-Bias to me!
-------------------