Video-Edwards Endorses Obama: "There is One Man..."
Submitted by

NCDem Amy

on May 14, 2008 - 21:26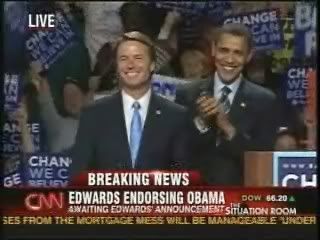 "There is one man who knows that knows and understands that this is a time for bold leadership. There is one man that knows how to create the change, the lasting change, that you have to build from the ground up. There is one man who knows in his heart there is time to create one America, not two ... and that man is Barack Obama, " John Edwards told a fired up crowd in Michigan, as he endorsed Barack Obama for President.
Edwards has been hinting at an endorsement over the last week. "Obama will be the nominee," Edwards told Larry King Monday evening.
Edwards on Larry King
Edwards has also been praising Hillary Clinton, tonight calling her "made of steel."
What she has shown ... is strength and character, and what drives her is something that every single one of us can and should appreciate," Edwards said. "She is a woman who, in my judgment, is made of steel, and she's a leader in this country not because of her husband but because of what she has done."
Edwards called for party unity when the nomination is over, stating, "Aand it will be over soon, brothers and sisters ... we must come together as Democrats."
While Edwards has stated he is not interested the Vice President position, he emphasized the "cause of his life," ending poverty, in his endorsement speech calling to "tear down the wall" and "build One America." Edwards is leading a new campaign, "Half in Ten," to cut poverty in half in ten years.
Edwards' Full Speech Part One
Edwards' Full Speech Part Two
Perhaps Edwards will occupy the first Poverty Czar position in the history of our country, leading the way on cutting poverty in half, in ten years, within the Obama Presidential Administration.
And about those pledged Edwards delegates...if all 18 of Edwards pledged delegates move over to Obama, it will leave Obama "less than ten away from nailing the majority," as Olberman reported tonight.
The Democratic voters have decided!