This Week With Barack Obama, The Presumptive Democratic Nominee, June 1-7, 2008
Submitted by

icebergslim

on June 8, 2008 - 21:35
cross-posted @ This Week With Barack Obama

the presumptive nominee with wife, michelle at the xcel energy center in st. paul, mn
::
obama's speech in st. paul, mn, june 3, 2008
photo blog

Yesterday, instead of watching the RBC meeting... by casperr; From Obama Blog: Troy, MI; From Obama Blog: Rite Aide Distribution Workers in Troy, MI; Finally! Obama comes to Oakland County, Michigan by brightstar; Photoblog: Obama in Troy, MI by Silvan Elf; Tear Jerking Photos - (Now w Wed Front Pages X2) by Al Rodgers; From Obama Blog: Victory Night for Obama in St. Paul, MN; I Witnessed History (Photo Essay) by Kayakbiker; THANK YOU, volunteers! (open thread) by casperr; Last night at the Xcel Energy Center, I saw history by Populista; Front Page News by Calev; Barack Obama at Nissan Pavilion in Bristow, Virginia by acluka
The wife U.S. Republican John McCain callously left behind
Obama toughens Iran stance, backs Israel on Jerusalem
McCain Distances Himself From Bush and Jabs Obama
Former weapons inspector predicts U.S. shift in foreign policy
Obama has cash advantage over McCain
Obama vs. McCain, by the map
Obama Makes History for African Americans
Obama moves quickly to put his stamp on party, DNC
obama's aipac speech, washington, d.c.
The Vice Presidential Quest
It has not even been one week since Barack Obama clinched the Democratic Nominee title, that we now must listen to blather about Hillary Clinton being his VP nod.
I wrote earlier on Wednesday, that it is Obama's choice and his choice only. In fact, it was Pennsylvania Governor Ed Rendell, a Clinton supporter, who stated with his eloquent charm that, "You can't leverage the President of the United States to make you Vice President. It's like an arranged marriage it doesn't work," said Rendell Thursday afternoon. "I don't think you're entitled. I think the presidential nominee has the right to pick someone he or she is comfortable with, compatible with." I hope the Clinton surrogates get and UNDERSTAND what Rendell said.
Obama has indicated strongly that the next time he talks of VP it will be when he announces the VP candidate. This had to be stated since the Clinton surrogates were hot and heavy handed in trying to force Obama's hand for VP selection by going to the media and hocking Clinton's name. This backfired as Obama announced his three team VP selection committee of Jim Johnson, Eric Holder and Caroline Kennedy. Thus, we saw a Clinton press release stating she is not interested or seeking the VP slot.
So, we all need to take Obama's lead and chill. If Clinton can pass the vetting process, along with her husband and if Barack feels she would be an asset to the ticket, then fine. What we don't want is a pressured candidate to accept a nominee as John Kerry was pressured to do with John Edwards. They were two different individuals who were not playing the same game during that campaign and it showed.
Barack Obama will pick the best and most qualified person to be his running mate, not the other way around. This will also include being in synch, the same vision, and no drama added going forward; an Obama MANDATE for what has made his campaign a success within, as well as outward.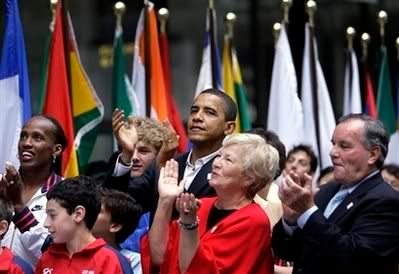 obama at daley plaza, in chicago, illinois
How Obama Did It
Barack Obama was campaigning last October in South Carolina when he got an urgent call from Penny Pritzker, the hotel heiress who leads his campaign's finance committee. About 200 of his biggest fund raisers were meeting in Des Moines, Iowa, and among them, near panic was setting in. Pritzker's team had raised money faster than any other campaign ever had. Its candidate was drawing mega-crowds wherever he went. Yet he was still running at least 20 points behind Hillary Clinton in polls. His above-the-fray brand of politics just wasn't getting the job done, and some of his top moneymen were urging him to rethink his strategy, shake up his staff, go negative. You'd better get here, Pritzker told Obama. And fast.

Obama made an unscheduled appearance that Sunday night and called for a show of hands from his finance committee. "Can I see how many people in this room I told that this was going to be easy?" he asked. "If anybody signed up thinking it was going to be easy, then I didn't make myself clear." A win in Iowa, Obama promised, would give him the momentum he needed to win across the map — but his backers wouldn't see much evidence of progress before then. "We're up against the most formidable team in 25 years," he said. "But we've got a plan, and we've got to have faith in it."

More than seven months later, that faith has been rewarded. The 2008 presidential campaign has produced its share of surprises, but one of the most important is that a newcomer from Chicago put together by far the best political operation of either party. Obama's campaign has been that rare, frictionless machine that runs with the energy of an insurgency and the efficiency of a corporation. His team has lacked what his rivals' have specialized in: there have been no staff shake-ups, no financial crises, no change in game plan and no visible strife. Even its campaign slogan — "Change we can believe in" — has remained the same. Time Magazine, continue
::
Barack Obama's Endorsement Derby by maureen
Underestimating Barack Obama by Femlaw
Now we know why Obama was in the U.S. Senate on Wednesday by markthshark
Obama reaches out to HRC supporters in Minnesota by Keith Pickering
With Grace and Dignity??? by Granny Doc
"Together We Can Rally the Party Around Senator Obama" by DHinMI
Wall Street cozying up to Obama
Clinton, Obama talks held without aides present
Calls him 'once-in-a-generation leader, Senate Leader, Harry Reid's Endorsement of Obama
What Obama Could Teach Africa
Why Obama will be the next U.S. president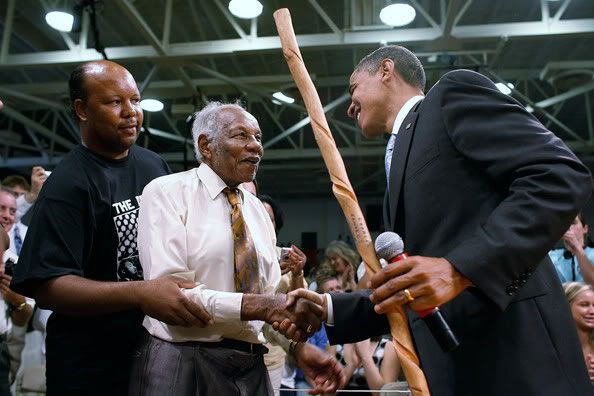 obama accepts a hand made walking stick by 95 yr old, charles edwards in bristol, va
::
Major Clinton Backers Rally Around Obama
Wave of Obama Books
The Long Goodbye
Clinton Ready to End Bid and Endorse Obama
Five reasons Obama won. Five reasons Clinton lost.
Clinton's exit: When push came to shove
shoutouts:

Portugal Builds Biggest Solar & Alt Energy Systems by FishOutofWater; What's Going On in the Oil Market? by bonddad; Hillary Clinton: A Personal View by DemFromCT; America should have listened to Jimmy Carter on Energy in 1977. by TomP; The six second video clip that mystified a nation by JedReport; Leaked memo: McCain is playing you, Clinton supporters by upstate girl; MUST READ: Whitey Hoax blown wide open by The Termite; If Clinton Really Wanted to Be VP... by MissLaura; Waxman Closing in on Cheney's Role in Outing Plame by emptywheel; Tonight, Congressman Robert Wexler spoke to his mostly pro-Clinton constituents by jdodsonvls; Friends of Bill Warn Obama: Do Not Trust Clintons by wisconsin girl; New Abramoff Plea is Trouble for McCain & the GOP by dengre

obama and clinton at aipac conference in washington, dc
Can New Voters Deliver November Victory for Obama?
Dems' Endgame Means More Games
Obama invites Clinton to unity meeting
Handling Hillary
Obama aims to make openness an issue
Clinton's couldas, shouldas, wouldas
Clinton suspends campaign, endorses Obama
Obama on Clinton's endorsement
The Long Road to a Clinton Exit
audio/video

Ida Fast Wolf introduces Obama in South Dakota; Obama in Troy, Michigan; NPR: Obama's AIPAC Speech; Obama in Bristol, VA for town hall meeting; ABC Overview of Obama's Campaign; Inside Obama Brand; NPR: Hillary Clinton's Concession Speech in Audio; NPR: Historians Imagine McCain-Obama Debate; NPR: Students React to Obama's Historic Nomination; NPR: McCain's Strategy vs. Obama; NPR: Week in Review: Obama Clinches Nomination; Daschle on Uniting the Democratic Party; NPR: Obama and JFK; NBC's MEET THE PRESS; Diddy on Obama's Nomination
obama speaks to HQ Staff & Volunteers in chicago, il
polls

NC Poll: McCain 43, Obama 40 - Officially a Swing State; SUSA polls Minnesota - Obama 47, McCain 42; Gallup: Both Obama & Clinton pull slightly ahead of McCain; Lots of polls; CBS Poll: Obama Leads McCain; Gallup Early Roadmap; Rasmussen Unity Achieved; LA Times: Obama has a HUGE lead among Latino voters!
McCain Proposes Joint Town Halls with Obama
World Welcomes Obama's Win
With Historic Nomination in Hand, Obama Will Turn to Swing States
Battle lines drawn for showdown campaign
Will the real John McCain stand up
Obama a symbol of progress, change
One Historic Night, Two Americas
WHEN Barack Obama achieved his historic victory on Tuesday night, the battle was joined between two Americas. Not John Edwards's two Americas, divided between rich and poor. Not the Americas split by race, gender, party or ideology. What looms instead is an epic showdown between two wildly different visions of the country, from the ground up.

On one side stands Mr. Obama's resolutely cheerful embrace of the future. His vision is inseparable from his identity, both as a rookie with a slim Washington résumé and as a black American whose triumph was regarded as improbable by voters of all races only months ago. On the other is John McCain's promise of a wise warrior's vigilant conservation of the past. His vision, too, is inseparable from his identity — as a government lifer who has spent his entire career in service, whether in the Navy or Washington.

Given the dividing line separating the two Americas of 2008, a ticket uniting Mr. McCain and Hillary Clinton might actually be a better fit than the Obama-Clinton "dream ticket," despite their differences on the issues. Never was this more evident than Tuesday night, when Mrs. Clinton and Mr. McCain both completely misread a one-of-a-kind historical moment as they tried to cling to the prerogatives of the 20th century's old guard. Frank Rich, NYT
The Comeback ID
Hillary: my part in her downfall
Obama's Focus on Faith Offers Promise and Pitfalls for Democrats
Foreign Reaction to Obama's Claim Is Favorable
It's Obama's Party
::
icebergslim's last word: hillary clinton, wrap up
It is over. Though not as it should have been, but it is over. Hillary Clinton conceded, Saturday, June 7, 2008.
Many have not liked the way that the Clintons have conducted themselves during this primary season. Point noted.
Many did not like how the dog whistle tactics were used against Barack Obama. Point noted.
Many did not like how the Clinton surrogates had behaved, and there were many. Point noted.
Many are very angered at Hillary Clinton for not recognizing the historical moment of Barack Obama's win. Point noted.
Many are still livid that she did not concede until four days later and was still plotting to hang around. Point noted.
But in the end, she did the right thing, even though she was pressured to do so. The only thing that matters is unity, Democrats with our Independent and Republican friends, standing side-by-side to defeat the Republicans in the fall. Our leader is Barack Obama, we are his army, his coalition, along with the Clintons.
So, let's move on. It is time to write about defeating John McCain and the Republicans. The issues are too grave to let this squabbling continue. It is over. Barack Obama is the Democratic Presumptive Nominee and we need to get it together to win in November.
Why Hillary Lost? By some of the best political front pagers in the blogosphere......

Why Clinton Lost by Hunter

Why Clinton Lost: Change and the Bush legacy by smintheus

Why Clinton Lost: She didn't channel supporter passion. by MissLaura

Why Clinton Lost: Too Soon a Bulldog by Devilstower

Why Clinton Lost (And Why Obama Just May Win Big In November) by georgia10

Why Clinton Lost: She Fought the Last War, With the Wrong Generals, and Not Enough of an Army by DHinMI

ok, i am not gonna lie. i have become the al rodgers, jr. of the slides. can't help it. with so many pictures to pick, it is only right. hail to the master al, though. it has been a HELL OF A WEEK. barack securing the nomination, hillary don't want to leave yet, hillary being pushed off the stage, hillary meeting with barack and hillary finally endorsing obama fully. man, is it that hard to lose? this is a primary race that many books will be written about, and it will all focus on the skinny, 2 year u.s. senator from illinois beating the clinton brand. that is the story for years to come. ok, we are onto mcsame, and it is time to go after him in earnest. we know by november it will not be all sugar and spice. whatever you are doing, remember to continue to stay engaged and focus on obama and not the drama....
::
Tip the Obama Jar, Here
Get Involved Here
For Inspiration: Yes.We.Can!!!
::
icebergslim1047 (at) gmail (dot) com
This Week With Barack Obama