This Week With 'The Presumptive Democratic Nominee' Barack Obama, June 28-July 6, 2008
Submitted by

icebergslim

on July 7, 2008 - 20:44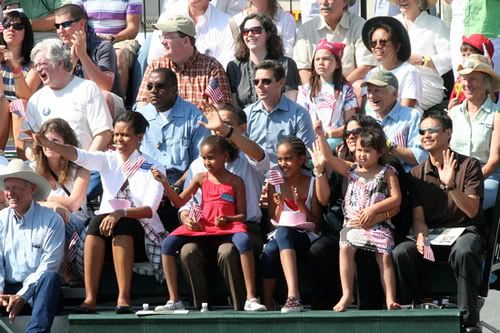 obama family in butte, montana, july 4, 2008
::
I hope everyone had a great holiday weekend. Since, I am late posting "This Week" and just getting back in town, I will let the pictures speak for themselves. A few things first:
If you have not given to the DNC for the Convention or to the Obama Campaign, between arguing, please do so. The DNC is running on empty now, due to the ridiculously, long primary season and money mismangement, in my view. The money is low, don't believe it, read it all here. Barack is also in full fundraising mode. We all know what this is about. If you want to win, you need money to do that. Barack would not be able to run ads in almost 1/2 the country if he did not have the money to do so. Remember Kerry, and the swiftboat ads and the slow response because he did not have the money to combat the ads? Just sayin', don't let anger get in the way of winning this thing in November.
Right now funding the DNC and the Obama Campaign is top priority. It has to be, the primary ran too long, we got a very late start on everything and the Convention is right around the corner, as well as the General Election. You know not only what to do, but what this is about in November, WINNING.
Barack is accepting the nomination in front of over 75K people at the Invesco/Mile High Stadium in Denver, Colorado. Sorry, I am from the old school and refuse to process companies names on sport stadiums, so it will always be Mile High to me. Just as Cominsky Park will always be THAT to me, from the Southside of Chicago. Anyway moving on, for a donation as small as $5.00 your name just may be picked from one of ten to enjoy the convention up close and personal in Denver. This also includes meeting Barack Obama. More information is here.
Lastly, please give to the DNC. Donate to the DNC here.
::
Double lastly, please give to the Obama Campaign, by DONATING HERE.

Thank You.
::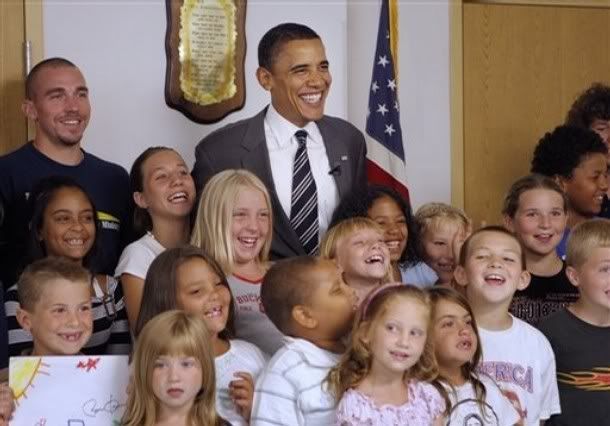 obama with kids from east community ministry, zanesville, ohio
::
Missed Obama's FISA position, read it here.
::
patriotism speech in independence, missouri, june 30, 2008
::
Obama is live on ipod. You can retrieve and listen to all his speeches, townhall meetings, special events. You can get all the information, here.
::

obama's laid back, enjoying his daughter's soccer game
::
The Obama Girls (Melia and Sasha, respectively) were promised, come hell or high water, a dog after going through this grueling campaign season. The girls deserve it 360 percent. Anytime you take a parent away from their children it is tough. You are reducing the home to basically a one parent home, which is what happened. So, for all the strife of the Obama Girls there now is a pet poll for which dog the girls should get. I know the family is interested in a "shed free dog" and will like to turn their attention to this list.
And for personal experience, I have had two of the dogs on the list. The bichon frise and havanese. Both dogs don't shed, both are loyal to the owners, both are sweet, both are small dogs and both are fun to have around.
One caveat, the bichon frise is a breed that has been over bred. The havenese is still a newer breed to this country, originating in Cuba. The bichon is a stubborn dog, have not met one that is not. The havenese is extremely loyal, easy to train and totally fun. I love both breeds and hope the Obamas investigate well before picking the right dog for their family.
::
call to service, colorado springs, colorado
::
List of missed Obama speeches, talks, briefings and all of the et cetera...
Barack Obama Addresses A.M.E. Church General Conference
Barack Obama on Veterans in Fargo, ND
Barack Obama Reiterates his Stance on Iraq
Fourth of July Parade in Butte, Montana
Barack Obama at 4th of July Picnic
Barack Obama in Zanesville, OH
The Obamas at Melia's Soccer Game in Chicago, Illinois
::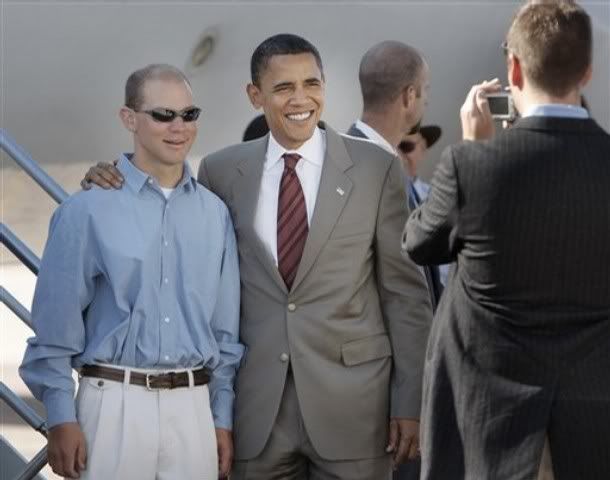 obama with jerry orvin in colorado springs, colorado
shoutouts

The Long, Long List Of McFlip/Flops (McCain that is) by StuHunter; Unfit for duty: McCain physically assaulted foreign official in 1987 by Geekesque; Elizabeth Edwards to Headline $40 million Health Care Coalition. by GlowNZ; The Obamas, Mortgages and Creditworthiness by SusanG; John "I Didn't Say What I Said" McCain by Todd Beeton; Cool Obama Family Campaigns & Celebrates by maureen; John Edwards to Debate Karl Rove by MLDB; Judge Requires YouTube to Turn Over User IP Addresses by ohmproject; Countdown to $200 oil: International Energy Agency says current prices justified by Jerome a Paris; Cleaning Up After the Worst Presidency in History by mcjoan
the slideshow, drumroll please....
i will be back in form next sunday. remember to donate, volunteer and focus on obama, not the drama...
Get Involved Here
For Inspiration: Yes.We.Can!!!
::
icebergslim1047 (at) gmail (dot) com
cross-posted @This Week With Barack Obama