42,000 gallons of oil per day into Gulf of Mexico
Submitted by

Unenergy

on April 26, 2010 - 18:14
NEW ORLEANS (AP)-- Coast Guard crews raced to protect the Gulf of Mexico coastline Monday as a remote sub tried to shut off an underwater oil well that's gushing 42,000 gallons a day from the site of a wrecked drilling platform.
The oil is escaping from two leaks in a drilling pipe about 5,000 feet below the surface. The leaks threaten hundreds of miles of coastline in four states, with waters that are home to dolphins, sea birds, and prime fishing and tourism areas.
Deep Horizon Oil Well Gushing 42,000 Gallons Into Gulf Of Mexico Per Day
The spill also threatened oyster beds in Breton Sound on the eastern side of the Mississippi River. Harvesters could only watch and wait.

"That's our main oyster-producing area," said John Tesvich, a fourth-generation oyster farmer with Port Sulphur Fisheries Co. His company has about 4,000 acres of oyster grounds that could be affected if the spill worsens.
As of Monday afternoon, an area 48 miles long and 39 miles wide was covered by oil that leaked from the site of the rig, which was owned by Transocean Ltd. and operated by BP PLC.
The Exxon Valdez spilled an estimated minimum 10.8 million US gallons
At 42,000 gallons per day, you'll have the equivalent to the Exxon Valdez within 252 days right on America's populated shoreline.
Louisiana oil spill, fears over possible environmental disaster
Crude leak from sunken rig could hurt Gulf Coast from Louisiana to Florida
Nelson: oil spill 'wake-up call' for Fla.
Oil rig sinking puts 'bad boy' industry in spotlight again
It wasn't even 12 months ago that a similar accident occurred in Australian Waters with the West Atlas Rig.
On 21 August 2009, West Atlas oil rig owned and operated by Thai company PTTEP Australasia drilling in the Montara oil field offshore 200km from Broome, a West Australian town famous for its pearling and tourist industry, suffered a failure.
This spill went on for months and contaminated a huge area offshore in the Northwest of Australia, very sparsely populated.
When the enquiry to determine the cause for the West Atlas rig failure was conducted, this is what they found.
PTTEP greed blamed for oil catastrophe
Drilling plan cut corners, inquiry told
Good oilfield practice not followed, inquiry told
Safety measures approved in 30 minutes
Timor Sea, the voiceless
Miscalculation and lack of support in oil disaster
Montara drill boss denies changing statement
Montara crew 'not told to install cap'
Of course this was about 28,000 barrels from around 21 August to October 30 2009.
In the case of the Deep Horizon flow rate, you'll match that in half the time.
Is this deep ocean drilling really as safe and controllable as the oil companies have made out? Because that's two in less than 12 months which will have long term implications for the fishing industry in both these areas. Let alone the plans for massive expansion proposed for North West Australia oil extraction and the offshore drilling recently approved for the US.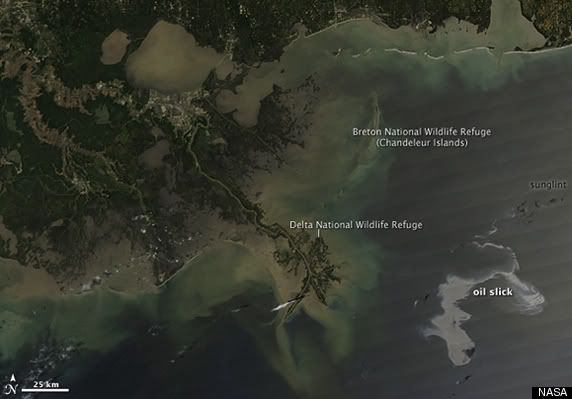 For a more detailed account of this disaster, as I don't know how it could be described as anything else, please check out Magnifico's diaries :
Exploratory oil drilling rig explosion & fire in the Gulf of Mexico
Burning oil rig sinks in the Gulf of Mexico, 11 still missing [updated]
Serious oil spill from sunken drill rig off the Louisiana coast