Bunny Salad Blogging - Miss Universe and Sexy Men Edition
Posted on:

20 August 2010

By:

Connecticut Man1
As we approach the Miss Universe competition on Monday, I thought it would be fun to revisit with what the current Miss USA, Rima Fakih, was doing leading up to the competition:
Miss USA Rima Fakih of Dearborn told the Free Press she is fasting from sunrise to sunset in accordance with Islamic tradition because it's the holy month of Ramadan even though she's busy preparing for Monday's Miss Universe contest in Las Vegas.

Fakih, the first Arab-American and Muslim to be crowned Miss USA, spoke to the Free Press today over the phone from Las Vegas, where she and beauties from around the world are prepping for Monday's Miss Universe Contest with a hectic schedule full of events and appearances.
There has been a lot of promotional stuff for Miss USA to do leading up to the Miss Universie competition:
Sin City and sultry photo sessions don't stop Miss USA from fasting for Ramadan

When the ninth month of the Islamic calendar descends upon the Muslim faithful, it doesn't pause for anyone. Even when you're the high pageant priestess of an entire country.

So hijabs off to Miss USA, Rima Fakih. Despite her gruelingly seductive schedule preparing for the Miss Universe competition on Monday night, Fakih doesn't let the dutiful doldrums get to the good Muslim girl in her.

Perhaps Las Vegas, body paint, and sexy semi-nude shoots don't exactly meet the traditional definition of devotion. But fasting for Ramadan from sunrise to sunset, according to Fakih, is not an option - it's an obligation.
This is Bunny Salad Blogging... So the gratuitous photo seekers will not be disappointed when it comes to the sexy semi-nude shoot, as I have included it in the post.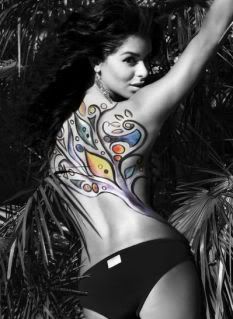 And I may just post more pictures of Rima Fakih... If you can convince me to by clicking through below the fold...
Miss USA recently released a video including a message to President Obama and a peek at preperations of a costume to be worn in tribute to the USA:
Before you go any further below the fold of this post, a quick note about Bunny Salad Blogging:
What may become a sometime feature at ePluribus Media because no red blooded American can resist bunny salad.

Think of it as an open thread for entertaining and non political stuff - posts, images, etc. - that you like but were afraid to post on it at a "serious political Blog".
Now... Feel free to dive in below the fold for more bunny salad, including Glamour's top ten sexy men, a little more background on Miss USA and, if you convinced me by clicking through, more Rima Fakih pictures. :)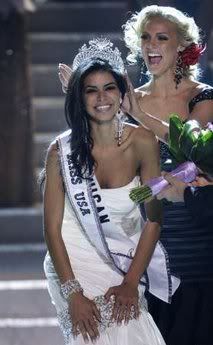 Comments from Miss USA on the sexy topless photo shoot?
Miss Trinidad and Tobago is the only contestant who decided to pose topless and facing the camera, while others wore bikini tops with body paint on their stomachs and necks.

...snip...

"For me, I like to do the back," she said "I didn't want to do the front for many reasons. I'm Arab, I'm Muslim and I didn't want to disappoint many people."

But she also noted that her own religious views are "liberal." "I apologize if I disrespect anyone," she said.
Liberal religious views.. HMMMM? I am liberal too!
From a previous post on ePluribus Media:
Born in Lebanon, raised in New York City and crowned Miss Michigan, Rima Fakih was crowned Miss USA last night. I could have picked many pictures of her but you know I had to pick the one that will be sure to make far right wingnut heads explode on eye contact.
Pageant organizers on Sunday night crowned a 24-year-old Lebanese immigrant from Michigan as Miss USA 2010. Rima Fakih was born in Lebanon, moved to the United States as a baby and was raised in New York City, where she attended a Catholic school.

She told pageant organizers her family celebrates both Muslim and Christian faiths. Her family moved to Michigan in 2003, where she later became Miss Michigan USA.

Pageant officials told The Associated Press that pageant records were not detailed enough to show whether Ms. Fakih was the first Arab-American, Muslim or immigrant to win the Miss USA title.
She graduated from the University of Michigan at Dearborn, where she majored in economics with a minor in Business administration and plans to return to school to get a degree in law after finishing up her contractual obligations representing as Miss USA. Without further comment and below the fold are some other pictures of the newly crowned Miss USA.
There are other pictures of Rima Fakih at that biography of Rima Fakih posted earlier at ePluribus media but you'll have to click through to see them. :)
And now.... On to more more and different bunny salad! And since there is more to life than Beauty Pageants. Right?
The book also had "menus" for special occasions like mother's day, and father's day. I'd plan my own menus too...

Starting with bunny salad…
For your viewing pleasure... A mouse musical mashup:
I am going to get me some cheese! Do the women need something cheesy for this bunny salad thread? Just in case Rima Fakih does not do it for you:
Glamour recently released a top ten sexiest men list and the top five? All suck! Literally:
Actors that are best known for portraying vampires actually comprise the entire top five of the list, as Robert is followed by three of his co-stars and Ian Somerhalder of The Vampire Diaries. Check out the top 10 below:

Robert Pattinson
Taylor Lautner
Ian Somerhalder
Xavier Samuel
Kellan Lutz
Johnny Depp
Gerard Butler
Hayden Christensen
Channing Tatum
As for numero uno? He may suck in character as a vampire but, supposedly, he does not suck in the kissing department:
Asked by E! News what it was like to work so closely with the Twilight Saga hunk, Ricci said there is some "naughtiness" between their characters and summed up the shoot with this praise for her co-star:

"Working with Rob was amazing. He's such a great guy, so talented."

Fans, of course, wanna know a lot more. For example, is Pattinson a good kisser? "He is pretty much awesome," Ricci confirmed.
Oh... You need to see those lips to help ya decide if Ricci is right?
Oops! Wrong picture of him... Try again:
Some of the others featured on the Glamour top ten?
In case you are on "Team Jacob" here is Taylor Lautner:
Ian Somerhalder:
Xavier Samuel:
Kellan Lutz:
Johnny Depp:
As I looked through photobucket for many of the new photos for this bunny salad...
I could not help but wonder if it is a just a guy thing to want to post the largest picture files possible because most of the photos of guys, I am assuming uploaded by their female fans for the most part, are almost thumbnail in size compared to the pictures of sexy women available.
Because most of the pictures of women I could post even larger if we had the room on the page... But, except for the one of Kellan Lutz, I am stretching the photos of the men to their limits.
Do you think guys would want larger pictures posted of themselves and fans would be uploading them in larger sizes iff they were nude photos of the guys?
Annyways... Have any Bunny Salad Blogging to drop in comments?