Elena Kagan and Sharia Law
Submitted by

Connecticut Man1

on June 26, 2010 - 19:26
Yes... Let us look hard at this picture of right wing lunacy:
As Rachel noted, the media and the GOP establishment have been pretty quiet about Supreme Court nominee Elena Kagan lately but that hasn't stopped some of the more extreme on the right from keeping up the attacks. Kent Jones reports on how the right has been trying to paint her as wanting to put the U.S. under Sharia law.

Right Wing Watch has more on this nonsense.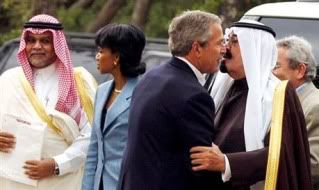 They've got nothing... Except the ties that bind the right wing to Sharia Law.
You haven't figured it out yet?
Bush's Newest Secret: Who is funding His Library?

At a White House press conference on Thursday morning, George W. Bush was a bit too cute when it came to an important matter: the funding of his presidential library.

News reports have noted that the library, to be set up at Southern Methodist University, will cost more than $200 million. The question is, who will pay for it? The tabs for presidential libraries are not covered by the taxpayers. They are picked up by nonprofit foundations, and these foundations have no obligation to disclose their sources of money. Bill Clinton has refused to say who is funding his library through the William J. Clinton Foundation, though the Washington Post reported that the royal family of Saudi Arabia contributed $10 million to the Little Rock facility.

It is troubling when the spouse of a presidential candidate receives millions of dollars secretly from one or more overseas sources. But what's more problematic is the prospect of a sitting president obtaining foreign cash for a pet project and not disclosing it. (The Saudis reportedly also gave the presidential library of the first President Bush millions of dollars. After being generous to George H.W. Bush and Bill Clinton, it's unlikely they will stiff the younger Bush)