High Country to Appalachia
Submitted by

Unenergy

on October 19, 2009 - 15:39
One of Australia's more iconic movies, based on a poem by one of our most famous poets, A.B. Banjo Paterson, tells the story of a young cattleman making a start, proving his worth in the mountains of NSW.
"He hails from Snowy River, up by Kosciusko's side,

Where the hills are twice as steep and twice as rough,

Where a horse's hoofs strike firelight from the flint stones every stride,

The man that holds his own is good enough.

And the Snowy River riders on the mountains make their home,

Where the river runs those giant hills between;

I have seen full many horsemen since I first commenced to roam,

But nowhere yet such horsemen have I seen".
"The Man from Snowy River" is based around an area they call the 'High Country', part of Australias Great Dividing Range which is where some of the most magnificent mountains anywhere in Australia can be found. Growing up it was an area I'd often visit for different reasons, leaving me with powerful memories and a love of the outdoors, of wilderness which I'd not trade for anything.
Scene from The Man From Snowy River
The film "The Man from Snowy River" was based loosely on the A.B. (Banjo) Paterson poem of the same name. It was filmed in the Snowy Mountains, part of the Great Dividing Range that crosses through the eastern part of Victoria, the southernmost mainland state of Australia.
The high school I attended had been donated the use of a parcel of land at the top of Mount Tamboritha, which was about 35km up a dirt road from a tiny town called Licola at the foot of a part of the High Country.
Over many years a couple of old cattlemens camping sheds had been converted to large accomodation areas with a mess and sleeping quarters. Plenty of exploration had been done by students and teachers and a number of the best hiking trails from this base camp were mapped out for students from my high school to gain the experience of camping out in nature. Because the school actively promoted this type of activity, those of us interested could also sign up for extended camping trips by joining what was known as the Duke of Edinburgh award program.
The concept of the DofE is simple – anyone aged between 14 and 24 can do a programme at one of three progressive levels which, when successfully completed, lead to a Bronze, Silver or Gold Duke of Edinburgh's Award.
There are four sections at Bronze and Silver level and five at Gold.
With assistance from adult Leaders, participants select and set objectives in each of the following areas:

Volunteering: undertaking service to individuals or the community.
Physical: improving in an area of sport, dance or fitness activities.
Skills: developing practical and social skills and personal interests.
Expedition: planning, training for and completion of an adventurous journey in the UK or abroad.
At Gold level, participants must do an additional fifth Residential section, which involves staying and working away from home doing a shared activity.
To complete the bronze part of the award, we had to plan a major hike with an overnight stay, organizing all the things we needed to survive in the wilderness. That included food, cooking equipment, water and first aid equipment, clothing, sleeping and wet weather gear, navigation aids, emergency provisions and plans in case of an emergency. We chose to walk from the Wellington River through some fairly rough terrain, over a range called Spion Kopje into an inland lake called Tali Karng. As planning went, the walk over Spion Kopje from memory was not necessary as it was on a walking track which came from the North, however as this was supposed to be a challenge the group I hiked with, probably 10 of us in all, elected to walk right up the top of this mountain and then back down into Tali Karng.
An example of the views from Spion Kopje, elevated areas in the High Country.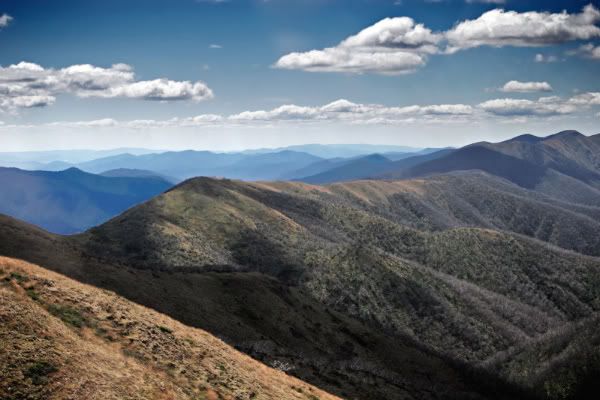 Tali Karng is a hidden jewel nestled deep in the mountains of Gippsland, fed by snowmelt waters of the Wellington Plains. The lake is believed to have been formed about 1500 years ago when a massive rock slide collapsed into the valley damming the waters of Nigothoruk Creek and what is now known as the Wellington River. The water runs underground from the lake to emerge as the infant Wellington River 150m below in the Valley of Destruction.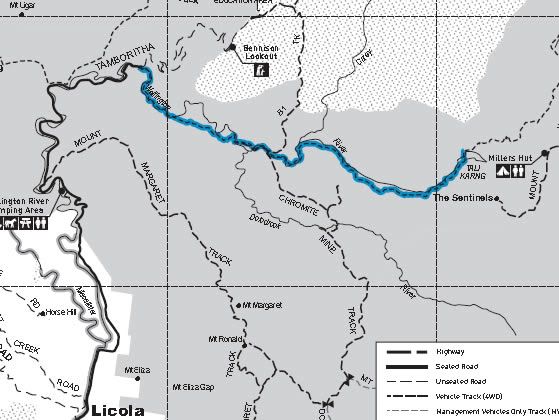 During the walk we went past Millers Hut. Dotted all over the High Country, as it was cattle grazing country as well as used by alpine explorers, are cattlemens huts which have been erected to shelter the drovers or cowboys as they move the cattle from one High Country pasture to another.
Australian Geographic have an excellent photographic series on these huts.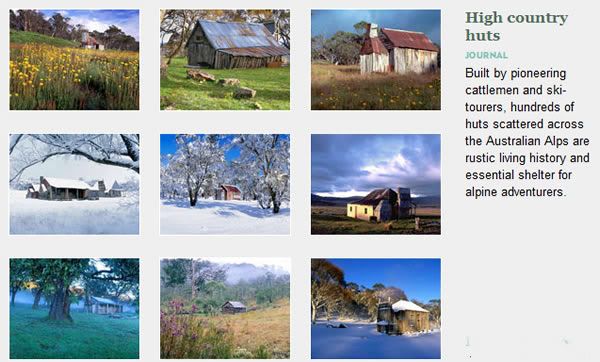 List of about one hundred of these huts
View of Lake Tali Karng from the track coming from the North along the Spion Kopje track from Millers Hut.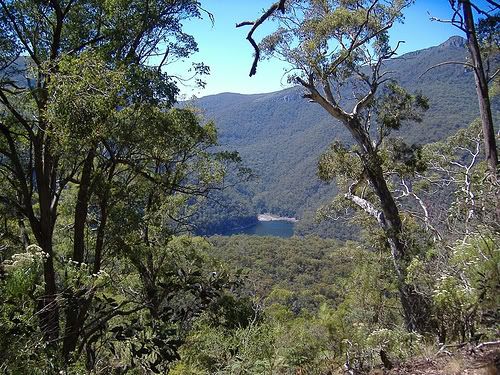 A higher vantage point shot
At the back of the lake are Snowden water falls and a rock pool which feeds the mountain melt water into the lake before it drains from the bottom of the lake to start the Wellington River.
The lake has no stream outlet, and has never been known to overflow, the overflow seeping away through the Valley of Destruction. Two creeks feed the lake, Snowden Creek and Nigothoruk Creek. Nigothoruk Creek has three waterfalls, collectively called Snowden Falls. There is no vegetation in the lake itself as the water is slightly acidic.
Snowden Falls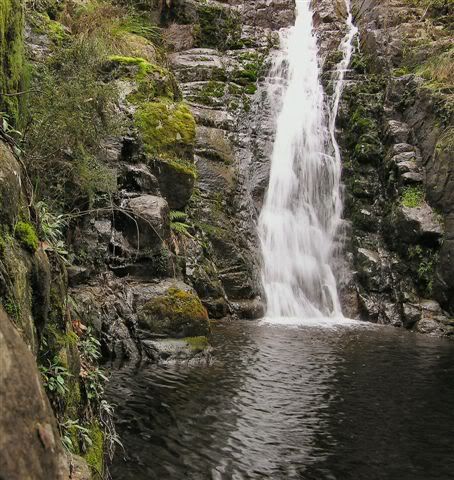 Apart from the magnificent views, there are a few things I remember about this trip like it was yesterday, despite having completed this overnight hike when I was about 14 or 15 years of age. Along the way we crossed the river many many times, so our feet were wet for much of the walk, except for those who had really good shoes. Unfortunately I had borrowed a pair of trendy hiking boots for the walk from a family friend which, as it turned out were a size or two too big. By the time we'd walked from the drop off point on the Wellington River Track, walked up Riggal Spur Track then detoured up Spion Kopje, finally traversing down the very steep incline coming down from Millers hut on Gillious track, and I removed my shoes, I had the biggest blisters on my feet I had ever seen. The teacher who'd accompanied us just in case of emergency and to give us slight hints to keep us on course, couldn't believe the size of them either, but some brand new fancy sports tape had just come on the market not long before called Elastoplast and he was carrying enough to bind up the blisters so I could put my shoes on without falling over in pain.
I can remember also that there was another group who'd set up camp about 100 yards (meters) from us. Being young teenagers we kind of found it a bit strange there were other people way out in the wilderness camping at this isolated spot, so a few of us wandered over to see who they were. As it turned out, when I had been at primary school I'd started learning to play guitar from a student at a local high school. I'd started at the age of about 9 or 10, and when my teacher finished high school, when I was 11 or 12, he left to go to college and I had to find another guitar teacher. Well my old guitar teacher, whom I hadn't seen for 3 or 4 years, was part of the other group, a group of medical students, trainee doctors who had chosen this place as a weekend hike. A great coincidence. I can remember when I got back home and told my parents, I think this planted the seed in my mind and not long after I started to teach other younger kids guitar as this teacher had done whilst he was at high school.
I can also remember waking up and seeing the fog slowly lift off the lake. Much like this photograph below. An experience I'd not give up for anything.
There is a much better set of photographs and write up on Lake Tali Karng hike located on this website:
Lake Tarli Karng - The Hidden Mountain Lake
==========================================================================
Trail Riding through the High Country
When I was younger, I was fortunate one of my best friends family owned a small farm and had horses. Because of this my friend was a member of a group at a horse trail riding club who would very often plan trail riding camping trips in the mountains in the High Country.
This would be a mammoth logistical exercise as suitable camp grounds not just for people and tents needed to be found, but large enough to accomodate horse transport floats, temporary stock yards and all that came with tethering and tending to many large animals.
On a few occassions I would tag along, my friend would take a horse and as these were family camping trips, there were usually young people to get into a bit of mischief with even when we each didn't have a horse to join in the trail riding. We were always camped by rivers which often had rock pools and waterfalls and plenty of good fishing.
But my sister had a horse and on a few trips I was able to borrow her horse and ride along with the older adults, out onto the High Country plains. I was maybe 13 or 14.
We'd gallup down gullys to gain enough momentum to get up the slippery bank on the other side. Or cross rivers so deep you were waist deep in water and the horse was not walking on the river bed, but swimming with you on its back.
We'd travel across great plains blanketed in a thin covering of last nights snow. Walk along the edge of a sheer cliff on rocky mountain pathways no wider than what a goat would manage to traverse. Where it was safer to stay on your horse than get off and lead it as its footing was better than your own. The trail riding trips were often planned to meet up at one of the cattlemans huts where someone from base camp had pre-empted our arrival and cooked lunch for us, heated the billycan so we could have a hot cup of tea.
Sometimes the animals would get sick or injured, or manage to escape the temporary stockyards of a night. Everyone would lend a hand then to help by recommending treatment for the affliction the horse had, or all work together to herd the horses back to their tethering posts.
So more than anything it was the people from completely different backgrounds, some were construction workers, some were maintenance tradespeople, doctors, and accountants and real estate salespeople, who made these trips unforgettable experiences.
There was Bluey the camp cook whose wife had a horse and they were both very involved in planning where each years trip would be. Bluey never rode a horse as he had a big beer gut and was as rough and grounded as they come, often opening his first beer on these outings at about 9 or 10 in the morning and drinking his last at 1 or 2 the following morning. But he kept the camp fully functional making sure any one who stayed behind chipped in enough so that the trail riders would only have to tend to their horses when they got to the lunch stop or returned to camp at the end of the day.
I can remember going to Bluey's farm at one stage and there was a large cattle truck reversed up loading some of their cattle to take to market. As I walked past the front of the truck, a 3 legged dog tied to the bull bar with a chain, only one eye and a half chewed ear, shot out of the shadows underneath the truck and grabbed a hold of my ankle snarling and growling. The owner luckily was walking around the front of the truck and gave the dog a clip under the half an ear and it let go. When I limped inside Blueys house and sat down taking off my shoe to find the mutt had drawn blood, Bluey roared with laughter as not 5 minutes before one of his sons had limped in the house with the same affliction. Bluey then took off both his socks to show me where the dog had bitten him on both ankles and drawn blood not half an hour before.
So he was a tough character, finding humor in the strangest of places, but at the same time had a heart of gold going out of his way to take his family and there animals to the mountains as often as possible, at great expense and effort, making sure everyone else there had a good time.
As I mentioned before, I'd been learning to play the guitar for about 4 or 5 years by this stage, which until this time had been limited to playing for my own entertainment or teaching other students. But on these camping trips I would take my guitar and got to play a few new songs around the camp fire. This part of the trip I looked forward to most of all. I'd never really been any sort of extrovert as a youngster, in fact if you knew me the exact opposite would be the opinion you'd walk away with. But having a guitar and a crowd around a campfire singing along to a few songs was something I found I liked doing. So after a camping trip I'd go out of my way to learn a few more songs which the trail riders liked so I'd be able to play them next trip to the High Country. And out in the mountains they do like both kinds of music, Country AND Western, so I'd find myself exposed to a gendre of music which they didn't play on the radio or TV all that much. Kenny Rogers, Tammy Wynette, Willy Nelson even Johnny Cash songs a favorite with the trail riding group.
One trip though I remember fairly well. Along with the country music, as I got a little older I'd been practicing with a number of different groups of high school aged rock band musicians. But also my guitar teacher at the time had introduced me to classical guitar music. You know Bach, Sor, Carulli, Beethoven and the like. But even though I actually liked playing this music, playing it to a large group of people around a campfire who'd been drinking beer and spirits for a few hours or in a rock band just wasn't a done thing. So my thoughts were that classical guitar was just something which you'd keep private as the audiences I'd played to didn't seem to get the 'elevator music' thing. However one night, if I remember rightly, we were camped up at a place called Howitts Hut. It was a fair bit higher on the mountain range and had been a really cold night. By this stage I was getting a little bit older so would often have a few drinks, actually I'd get pretty drunk and taught myself how to continue singing in tune. It was pretty late and many of our group had gone to bed, I'd run out of alcohol as had another one of the other trail riders. He told me that he'd stashed some alcohol so said to grab a shovel. We proceeded to locate a tree where a year before he'd buried or planted a full bottle of Penfolds Port.
The tree was a fair way from our camp but within the vicinity of another group who were on the mountain enjoying the wilderness. They called us over to their camp and mentioned they had heard the guitar from earlier and said to grab the guitar and a drink and come join them.
The group turned out to be students from a university in Melbourne, about 20 or so of them, and a couple of them had guitars. One of them asked me to play a song which the group sang along to and the two guitarists improvising with melody, playing along over the top. I can't remember what song I played, maybe a John Denver song, or Don McClean song, but after this the two guitarists played a classical music duet which put my guitar skills to shame. And the rest of the group around the campfire it seemed to me, were as transfixed at this as I was and applauded at the end. I can't really remember how long I sat there listening to these guys play classical guitar music to their group but I was there a while, chugging on the bottle of port we'd dug up. I can remember though it must have been a while as I walked back to our camp alone as my buddy had long ago left when the classical guitar music had begun to be played. But for me it made it real and a good thing to keep practicing at, something to be good at and be proud of this as a skill not just something only the guitarist appreciates for himself, but others think its OK as well.
Howitts Hut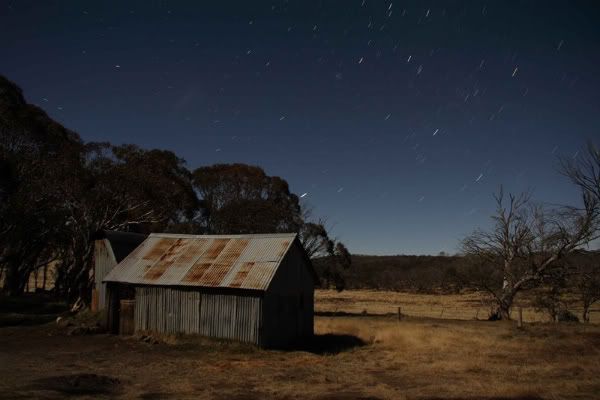 There were plenty of other stories about the mountains and this group including visits to the Cattlemans cup, but we'll leave it there.
==========================================================================
Wollongarra
Just down from Licola there is a lake called Lake Glenmaggie. During one school holiday break, I'd gone up to the lake to stay with my Uncle and Aunt who were renting a place on top of a cliff which sat on the lakes edge. My Uncle worked away on oil and gas platforms and gave me a book about a place he said we'd visit when he returned from his week away offshore. Wollongarra was a place up in the mountains around Licola which a guy names Ian Stapleton had been building to give underprivileged kids, kids from the city or kids in trouble with the law a real mountain experience.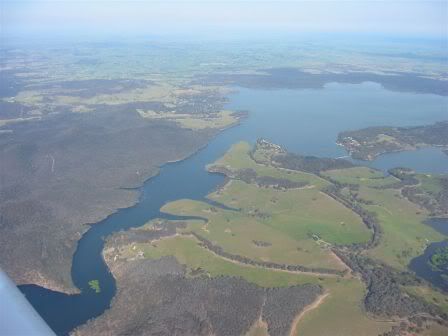 Ian had previously taught at Timbertop which is a rural campus of Geelong Grammar School where Prince Charles had attended as a youth.
Timbertop's mountain setting complements our rigorous academic programme, which includes environmental issues, geographic formations, pioneering skills, farming projects and local flora and fauna studies.

Here, adolescents develop personal skills and qualities beyond those possible in a traditional suburban day school. While living together in a small, supportive and secure community, they are exposed to intellectual, physical and emotional challenges under demanding environmental conditions.
The Prince spent two terms at the school in 1956.....

This boy is one of several thousands of boys and girls aged between 14 and 16 who, for the past 50 years, have left their normal, often privileged, lives to spend a year in spartan cabins in a remote part of the Victorian mountains. They follow a full-time Year 9 academic course but outside school hours have a series of tasks to perform including clearing drains, washing windows and vacuuming classrooms. They have no hot water unless the student rostered chops the wood and lights the boiler.

Three times a week they do a strenuous cross-country run and at weekends hike in the high country or, in winter, do cross-country skiing.....

Ian Stapleton, the school's hiking master in the 1970s, was saddened by the fact that the experiences the school offered were restricted to such a small number. With the support and help of many Timbertop staff, students and high-country neighbours, he established Mittagundi in the Bogong High Plains and later Wollangarra near Licola.
Mittagundi is an outdoor education centre established with the belief that young people, mountains, hard work and challenges are natural partners...
The atmosphere at Mittagundi is simple, honest and happy. There are no watches, no timetables and no money. Instead there is an opportunity for young people to live and work together in an environment where people matter more than anything else.

"Mittagundi is a constant in a changing world - a place where people are more important than anything else. Every visit is a reminder of that. It's a great place to take photos when there's so much variety in the four seasons."
I cannot remember the book which I read, but from memory the year I stayed with my uncle and aunt would have been after 1988 and before 1995, so I think it would have been the story of Mittgundi.
Amongst our mountains : young people & high places, natural partners : the story of Mittagundi / by Ian Stapleton - 1988
Towards tomorrow's mountains : the power of purpose : the story of Wollangarra / by Ian Stapleton - 1995
As it was so long ago and I do not have a copy of the book, I cannot quote directly from it, however what I can recount was a couple of things which have stuck with me for a long time.
The book basically recorded Ian's battles to build Mittagundi in the Bogong High Plains. Being a teacher his financial circumstances did not allow Ian to simply go out, purchase the land, hire the workers, buy the building materials and knock up an acceptable homestead and camp which kids would be safe at. So everything relied on donations. Of building materials, machinery to transport it, tools to work it, volunteers to build it, the donation of water tanks and wastewater treatment equipment. But most of all people volunteering to help build it. In effect Ian made his entire life about building these camps for people who would never get to experience the mountains otherwise.
At one point in the book Ian was talking about an area of bush land he was scoping out for clearing to erect part of the camp of Mittagundi. He had driven his old beat up workhorse vehicle, a Landrover, equivalent to a Willys-Overland Jeep, deep into the scrub and had parked in the shade in order to eat his lunch. For some reason which Ian indicated was a little out of the ordinary for him, although he'd been parking his truck and eating his lunch in this way for months, he decided on this particular day that instead of sitting in the drivers seat as he unwrapped and ate his sandwiches, he'd shift over and sit in the passenger seat.
Not long after he'd taken a bite out of his sandwich, an almighty 'crack' rang out in the very near vicinity to the Landrover. Ian was stunned and thrown about as a major part of a tree, much heavier than a man could lift, crashed down on the drivers side of his Landrover crushing the steering wheel. Had Ian been sitting in this seat, he recalls he would have been killed outright. So although unlucky for the Landrover, it was a close escape for Ian.
But it wasn't just this story, by the time I finished the book I wanted more than anything to visit this man and see the second camp he was building to provide that mountain experience for those who would not be able to otherwise experience it. Meet the guy who had elected to live his life by giving his all, something which he felt so strongly about he gave up everything in order to create something lasting for others so they could experience those mountains I told you a little bit about above. I think Ian understood it was not just the scenery and remote wilderness which transforms peoples lives, it is experiencing it with others.
When my uncle, his buddy and myself got out to the very beginnings of Wollongarra camp, Ian had to leave not long after as he had a wedding to attend. He thanked us for coming out to lend a hand and had a volunteer from Melbourne set us to work digging the footings for a water tank which they were hoping would be donated. Ian also told us he was collecting some donated tins and other foods to feed the volunteers and getting a part from another donor for the flying fox they had built over the river to get the building materials to the camp site. There was no road access therefore the main building, which had been mostly constructed from old railway sleeper had been bought in and erected by hand.
So although I had built up meeting Ian into something extraordinary in my mind having never met a real author before, I realize now after looking back that it wasn't necessarily an anti-climax, that the lesson here is if one person so chooses to do so, an ordinary man once he has set his mind to it, can achieve extraordinary things.
Ian Stapleton did that by how he chose to live his life. Not just as a one off either.
Some activities and feedback on the two camps Ian built

The hut was re-furbished in 1988 by unemployed youths from Wollangarra under the supervision of Ian Stapleton.

Wollangarra Facebook
Mittagundi and Wollangarra Facebook

"The better half of my teen years was spent here. Great place."
"Been away a week and having withdrawals. Not enough stars in the big smoke"
"I can thank Mittagundi for many memorable and amazing moments in my life. It was this place that made me change my attitude to school and life. Now I am a teacher and owe it all to Mitta."
Ian was the founder of remote outdoor education centres, Mittagundi and Wollangarra that have helped young people to help the mountains.
Kids walk into the site using a pack horse to cart their provisions.
They are then set to work in the mountains.

Through these centres, Ian has inspired many 'lost city youth' to discover the satisfaction of achievement, the importance of community and the joy of a purposeful day's work.
Map of the areas I have been talking about