The Immortalization of William "Bill" O'Reilly (SRSLY!)
Submitted by

GreyHawk

on February 20, 2011 - 06:02
Yes, folks, it's true: Bill O'Reilly is becoming an immortal. But don't fret -- it's not like he'll become a stalwart bastion of conservative ideology. He's instead gone the way of "stalwart bastion of ridicule" and created an immortal (and hilariously appropriate) new internet meme: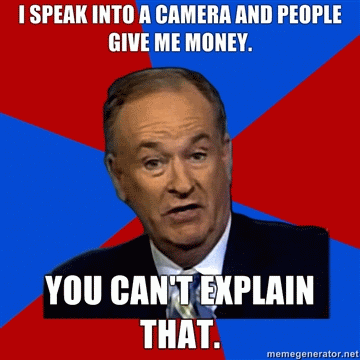 The animated ORLY? You Can't Explain That.
A post over at GeekOSystem tells the story:
Last month, Fox News host Bill O'Reilly stepped into instant Internet infamy when, in a debate with American Atheists president David Silverman, O'Reilly attempted to prove the existence of God by citing the mystery of the tides: "I'll tell you why not a scam, in my opinion. Tide goes in, tide goes out. Never a miscommunication. You can't explain that. You can't explain why the tide goes in." Only one problem: There's this thing called the Moon which might have a little to do with tides.
Bill-O wasn't expecting to actually get an answer, never mind a complete - and polite - utter smackdown. And now, he's achieved the ultimate in unintended consequences: he has, in his arrogance, created a meme that will likely survive him and find its way into a myriad of modern day pop-culture expressions.
Amazingly, I'll bet he can't explain that, either.