Logo Design Contest - ePluribus Media
Submitted by

ePluribus Media

on March 20, 2011 - 20:22
ePluribus Media is looking for a logo. Specifically, it's looking for a new logo, one that will be more functional as a logo than our traditional trademark graphic. Given the plethora of bright, talented individuals who populate the ePluribus Media and Daily Kos communities and their past participation in the Dick Cheney Halloween Photoshop contest (entries here, votes here), I thought it may be both useful and fun to offer a free ePluribus Media "Don't Clog My Tubes" coffee mug to the winner - whoever designs the best new logo for ePluribus Media. The winner would also be listed on the ePluribus Media "About" page for credit with the logo design and given the option to link to his or her site if they'd like (unless such a link would lead to a NSFW site - sorry).
The blogger's mug features a graphic designed by Roxy the ePM Webmistress and myself, and brought to life through Roxy's own mystickal Photoshop wizardry. Here's the graphic:

And here's what it looks like wrapped around a coffee mug: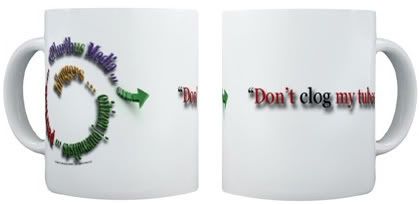 What do you think - are you up for a challenge, in exchange for a stylin' mug? If so, read on...
The following is an excerpt from The Elements of Style: Tips, Tricks and Regrouping News,1 which marked our initial official announcement that we were regrouping, rebuilding and recalibrating:
ePluribus Media was formed in 2005. It's an organization that resulted primarily from the work of SusanG and others on the Gannon/Guckert scandal. Our mission statement:

ePluribus Media is a cooperative of citizen volunteers dedicated to researching issues of common concern and encouraging the highest standards of ethics and journalism.

Our mission hasn't changed.

Our organization, however, is undergoing several changes - a metamorphasis and maturing that we're hoping will lead to more active investigations into well researched, fact-checked and edited articles that will be published in our Journal.

We'll be starting a Citizen Journalism group here on DailyKos for people interested in helping us along the way: we'll be looking for folks interested in helping us investigate, write, edit and produce stories.

And we're actively engaged in looking at epublishing work from our Journal (past and ongoing, in addition to some special items) among other exciting projects.
As noted above, our mission hasn't changed. Our mission statement, however, has been updated and clarified:
"ePluribus Media is a cooperative of citizen volunteers dedicated to researching issues of common concern, encouraging the highest standards of journalistic ethics and promoting citizen journalism."
        -- Mission Statement, revised & updated 12 March 2011
So has our motto:
" Citizen Journalism Of, By and For the Masses "
We've also formed the Citizen Journalism group, although we haven't opened it up yet for much participation. We've begun to reach out to other Daily Kos groups, however, and hope to post a diary with more information about that soon.
The Logo Contest - Guidelines
We've generated a very short list of guidelines: the objectives are supposed to provide a baseline, but not stifle creativity. So here's what we've got:
Crisp, clear, able to be enlarged and or resized - i.e., not too "busy" and preferably not too much minute details

No color restrictions (per se) - Sure, we've got some default colors that our site is currently built on and around, but since we're rebuilding we don't want to limit folks. If the color scheme is eye-catching yet the logo can still be effective and recognizable when printed in black and white, that's a good thing. We can alter our site colors - or perhaps the finished final logo colors - once all is said and done.

International in scope - i.e., we're an internet entity, not a Boston, San Diego or Osh Kosh-based group...

Prefer transparent background, not necessarily white or black - because you never know where someone might want to slap the logo.

Cannot (do not) use the acronym "ePM" - Some crazy fundamentalist group is using it. We ~don't~ want to get confused with them, and we certainly don't want 'em coming out of the woodwork looking to sue for trademark infringement.

Can use "eP Media" "ePMedia" etc. - Because that's us. :)
If you're naturally adept at graphics but need some pointers when it comes to logo design and branding concepts, we've a couple of resources that we've looked at - and you can feel free to add any others below, in comments. Here they are:
From Branding Basics – Create a Great Logo and Tag Line by Karen Saunders of About.com,2 here are seven (7) logo design tips:
Keep in mind that a powerful logo design:

has a strong, balanced image with no little extras that clutter its look;

is distinctive and bold in design, making it easy to see at a glance;

has graphic imagery that looks appropriate for your business;

works well with your company name;

is done in an easy to read font;

communicates your business clearly; and

looks good in black and white, as well as in color.
You can also refer to Zinni's April 2008 post Logo Design Basics: The Five Types of Marks over on Positive Space Blog or reference the December 2006 post by Jim Williams on Entrepreneur titled Logo Design Basics for further information, standards and tips.
If you're posting an entry, please put the word "Entry" in the subject line of your comment - otherwise, just post a comment with any thoughts or suggestions. Entries are open until April 8.
We're looking forward to your feedback, and greatly appreciate any time and effort that people put in to this to help us take the ball a little further down the field toward the goal post.
Note: For those who'd like to participate, we'll provide an entry form link shortly on our site - we'll post a link here. And you can also submit via email: logocontest at epluribusmedia dot org

Footnotes
1 That diary was very successful, and there are some additional good tidbits in the comments. For even more formatting goodness, you should also check out fiver's Diary Guide to Formatting, Linking, Images, Embedding, and Tables.
2 Branding Basics – Create a Great Logo and Tag Line, Logo Design & Tagline Tips for Effective Branding, by Karen Saunders, About.com, Small Business: Canada.