In Memoriam: Passed Pets
Submitted by

GreyHawk

on April 3, 2011 - 18:59
Crossposted from Daily Kos.
A few days ago, a good friend told me of the passing of an old friend. The two of them had been together for 21 years. It saddened me, as I understood how close they'd been and what they'd gone through together, but we both agreed that our old friend was in a better place.
So far, most people reading the above who hadn't paid attention to the title might think that this is solely about people - but, as hinted in the title, it's not: it's about people and their pets, the faithful companions who stand by us through thick and thin.
I'll refer to my friend here as "BugBear" and to her faithful, now-passed-on companion by her name: Spanky, which was short for Spank a Funk a Puss. There are two other furry companions I'll make reference of here: Smoky, who passed on a decade or so ago, and Missy, who passed on a few years back. For those who have lost a special companion, use the comments to honor and remember your furry friend and companion.
...and now, on to the memorial and to the memories.
Spanky
On Friday, March 11, 2011, a petite calico kitty who answered to the name of "Spanky" passed from the physical world to make her journey across the Rainbow Bridge. Spanky was 21 years old.
I learned of Spanky's passing on March 26th, and posted a brief note on Facebook about it for those who knew her.
Spanky was the companion and fellow traveler who accompanied my friend Bugbear through life; her departure from the physical realm left a gaping absence. Please keep them in your hearts, and send Bugbear any healing thoughts that you can muster over the loss of her long-time friend.
I regret that I cannot put my fingers on any of the other images I have of Spanky, which would make it easier to demonstrate what a unique kitty she was. I'll update if I come across them.
Spanky, rest in peace.
Smoky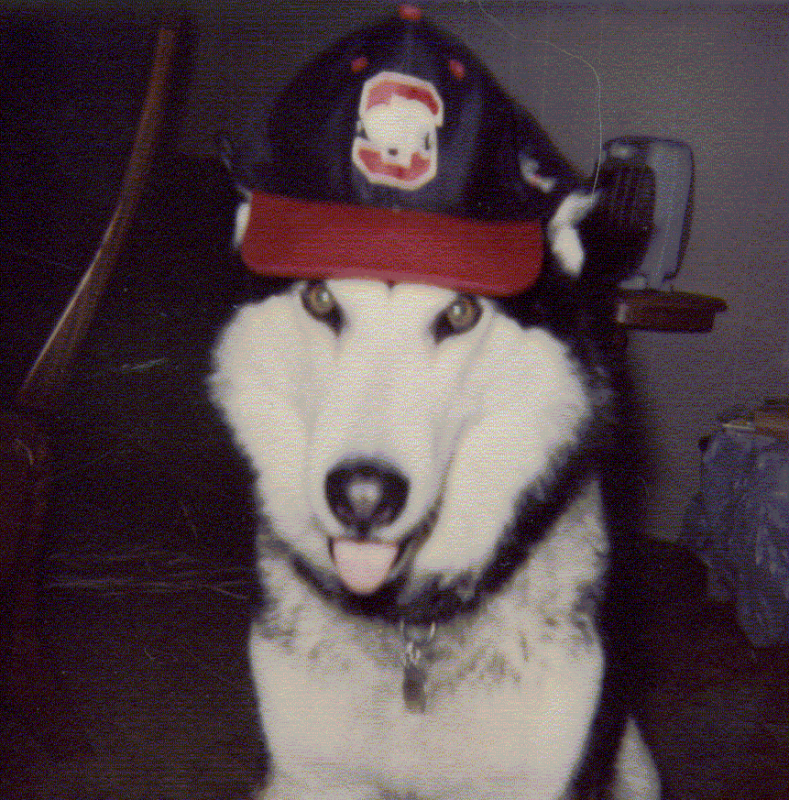 Smoky came into BugBear's life as a puppy, and grew into a large, friendly, curious and intelligent friend. They traveled nearly everywhere together, and Smoky not only provided company but also a degree of security.
His general outlook on politics was "Meh," but he was an avid Snoopy supporter. His minor interest in canine political activism never eclipsed the bond with his primary human, however.
There was a brief point in time where Bugbear needed someone to watch over her precious furry companions for a couple of months; I volunteered, and was honored to have opportunity to take them in.
In order to ensure that they felt right at home with me in their temporary digs, I replicated as many of BugBear's habits as possible. Smoky traveled with me nearly everywhere, while Spanky managed to keep the house under control doing all that stuff normally associated with "hard kitty work."
Spanky didn't like to travel around by car, so whenever I planned to visit BugBear to tell her about how the "kidz" were doing, Smoky would come along.
He loved driving in the car.
There were very few snags involved with temporarily caring for the two of them, save one: a well-meaning but nosy neighbor who kept insisting that I needed to get Smoky licensed. In spite of the facts that I repeatedly pointed out, namely:

he already had a license, and

he wasn't my dog, but just visiting
...the neighbor kept insisting that he was certain that Smoky needed a license. I asked, finally, where I would go to get one - thinking, at the time, that maybe I could or should get some sort of waiver at least. The neighbor didn't know, but suggested the DPS (Oklahoma Department of Public Safety), so off I went.
The next time he saw me and asked if I'd gotten Smoky a license, I proudly showed it to him...and, without a word, he exhaled loudly and stomped off. I never saw him again.
I guess there's no pleasing some folks.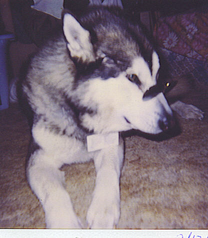 Smoky, of course, didn't care. He was pretty happy with the way it all turned out.
Eventually, the time came when I had to say goodbye to my temporary boarders and return them to their rightful home. I knew how much BugBear had missed having them around, and the constant flow of communications and pictures, punctuated by the occasional visit, didn't really help beyond letting her know that her two precious friends were doing ok.
They were, of course, thrilled to be back with her.
Smoky crossed the rainbow bridge a few years later, much to the sadness of all who knew him.
Missy
Missy came into my life while I was still living in Oklahoma, shortly before Smoky and Spanky were due to return to their home with their "mom." I'd gotten so used to having the furry companions - and, I'd hoped, done a good enough job of caring for them - that I'd developed habits that would make caring for my own furry much easier.
When I first picked Missy up from her previous owner, I brought Smoky. They'd met once before, and she was happy to see us both. When we took her home with us, though, she crawled into the trunk of my car from the back seat and hid - it would be fourth time in less than five years that she'd changed homes and families, and she didn't know why.
She quickly adapted, tho, and she and Smoky became inseparable. She even got along well with Spanky, once Spanky set the boundaries on their relationship.
Walking the two Alaskan Malamutes was fun. Usually. Unless they'd find a skunk or see some chickens trying to cross a road...then it became a bit of a challenge, trying to restrain two exuberant, bounding dogs as they'd try their damndest to get somewhere that I didn't want them, or me, to go.
Over all, though - aside from encounters with skunks or chickens - the walks were great, and the two Malamutes made quite a few friends...including the folks at the barbeque place, who also welcomed them when they'd walk up to the drive-through window and sit down.
They'd always get beef ribs, and the darn things looked bigger and meatier than the ones I'd normally get as a customer.
I guess it was a "who you know" factor, and they knew the owner. I was just the neighbor they brought along. :)
Missy traveled all over the country with me. I would go to satellite offices of the company I worked for, and Missy was always welcomed. She'd visit with the office manager and others while I'd work on the systems and network, and let me know whenever it was time for a break.
She loved traveling, and even after I moved us to New England (where I'm originally from), she would travel with me to the Oklahoma Writers Conference in Oklahoma City and to visit other people and events in various parts of the country.
When I married, my wife and I found ourselves immediately and unexpectedly thrust into a caregiving role - Wifey's mom had Alzheimer's Disease, and could no longer hide the impact it was having on her.
Missy and Mumsie (my mother-in-law) became inseparable.
We still miss Missy-woo (one of her many, many nicknames).
Rest in peace, my furry friend.
For all our furry companions
I've read many touching "goodbye" diaries here whenever one of the members of this community have lost one of their furry family members, so please feel free to post any thoughts, memories or even links to your own memorials in the comments below.
I thank you all for taking the time to read through and get to know Spanky, who recently passed, and for keeping BugBear in your thoughts; thank you, too, for letting me tell you a bit about Smoky and a little more about Missy, and for allowing us all to touch your hearts.
Peace.