Occupy Hartford CT's tents are safe for now
Submitted by

Connecticut Man1

on October 12, 2011 - 00:41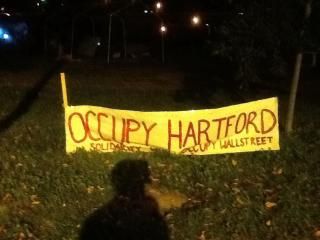 They came to an agreement for at least another night and here is where it gets sort of rumorish and repeated by many people but but I will try and piece it together for you as best as I can...
Someone on the city council is working to get them a permit for a more permanent occupation. Here is the gist of it as near as I can tell:
They have, in the past, given permits to set up tents for some lengthy demonstrations in support of the homeless. They are trying to get them another permit for that and they think they can do it because there are a few homeless people that are on site to take part in the demonstration.
We will see.
There were two meetings with the city scheduled earlier today. One was with the mayor, the police and some other reps of the city. The other was with the city council.
The mayor did not show up to their scheduled meeting and the others that did show said the tents had to go.
But at the city council meeting?
They were more open to working with the protesters. There is mention of someone that is on the council and supports this protest completely - our insider/ringer sort of. During that meeting in the day they discussed the possibility of a permit for protesting homelessness though nothing was decided on the spot.
But later that night someone from the council sent message that the tents could go back up "for now". Which sent a round of cheers amongst the protesters.
And we can add another W to the efforts here. :)
I have some pictures of signs and stuff that will go up later but I want to see if I can brighten them a bit first because I was working in the dark with no lights. I did not even bother with video because of the darkness.
--------------------
[update]
And a future little activist I brought along:
My youngest son and I especially had some fun making huge bubbles with some of the other activists there... :)
[updated with a couple of photos above and below the fold at 2:44pm 10/11/2011]