Offshore drilling disaster: West Atlas Oil Rig now on Fire
Submitted by

Unenergy

on November 2, 2009 - 18:10
On 21 August 2009, West Atlas oil rig owned and operated by Thai company PTTEP Australasia drilling in the Montara oil field offshore 200km from Broome, a West Australian town famous for its pearling and tourist industry, suffered a failure.
A blogger from another site wrote an article on 21 October detailing continuing failed attempts to stem the flow of oil from a rig in pristine marine area of the North West Coast of Australia.
4th Try in 8 Weeks to Cap Timor Sea Spill, U.S. Approves Arctic Offshore Drilling
After trying multiple times to plug this leak, the platform has, as of yesterday morning caught fire with the leaking hydrocarbons now fueling the inferno. No people were harmed when the rig caught alight.
'Disaster movie': fire breaks out on leaking oil rig
Environmental groups say the oil leak spilling into the Timor Sea should be declared a national emergency, with one expert likening it to a ''disaster movie''.
Australia oil well catches fire
PTTEP 'Under Pressure' as Fire Burns at Stricken Timor Sea Rig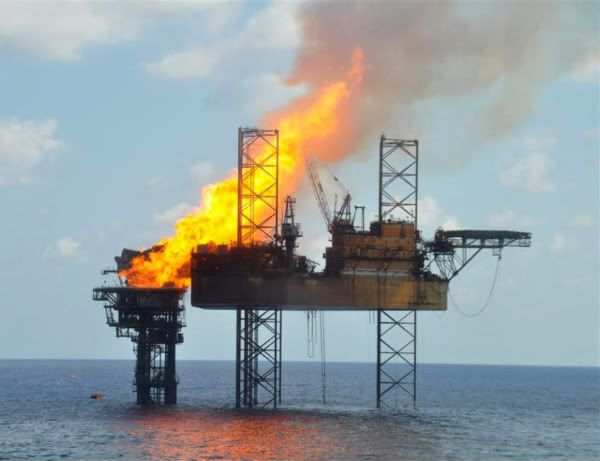 Video of fire.
Recent Interview with WWF
September 28, 2009
TWO hundred kilometres off Australia's northwest coast, chunks of toxic residue, fallout from the nation's third largest oil spill, stain the normally clear water that is home to thousands of marine species and birdlife.
Oil spill 'massive' risk to Australian animals
The spill is reportedly Australia's worst since offshore drilling began more than 40 years ago.
"If slicks the size of the Timor Sea spill occurred off Melbourne or Sydney there would be outrage," said ACF Healthy Oceans Campaigner Chris Smyth.
Interview with WWF on September 17 regarding the 15,000km slick over one month ago and its impact on marine life.
In an effort to address environmental concerns, on October 15, the Australian government announced an agreement with the company responsible for the spill that marine monitoring of the, by then more than 15,000km2 spill, for two years.
The study, funded for at least two years by Thailand's only publicly-traded oil explorer, will provide information to address "the longer term environmental impacts of this disaster," Environment Minister Peter Garrett said today.
Economically prior to the leak the endeavors to drill and plug the bore hole had cost the company over $170 Million dollars.
October 29, 2009
Timor oil leak costs $170m: company
The company responsible for a massive oil and gas spill off the north-west coast of Australia has estimated the cost of the leak at more than $170 million - so far.
Just two days ago a very experienced oil well firefighter claimed that this spill would take a further 2 weeks to be bought under control.
Two more weeks to plug Timor Sea spill
VETERAN oil well firefighter Mike Allcorn, who tackled the Kuwaiti wells set alight by Saddam Hussein's troops in 1991, says the delays to plug the West Atlas spill have been frustrating.

And he estimates it could be a further two weeks before his team can stop the oil spill in the Timor Sea -- now estimated to have cost the operators $170 million.
Although it appears now that the fix may come sooner.
More mud needed to stop oil rig disaster
It will be at least another day before experts will know if their next attempt to stop an oil leak and fire at a rig in the Timor Sea is successful.

Jose Martins from PTTEP Australasia says experts are mixing heavy mud that will be pumped into the well below the rig, to stop the leak.

"We require to mix 4,000 barrels of heavy mud and we need that level of mud and we don't have it at the moment, so that will be later on tonight," he said.
Fortunately the rig is insured for $200 Million.
Seadrill spokeswoman Hilde Waalen said that the West Atlas, which is fully insured for $200 million, may be a "total wreck", but added that an accurate assessment of the damage can only be made once the wellhead fire is doused.
Full inquiry into West Atlas rig leak
Oil rig fire 'national emergency' spreads
Fire continues on leaking oil well
Additional leaks from other rigs operating in the area have also been reported, although reports are they are minor.
Puffin oil field JV partner says gas leak in Timor Sea small
Gas company told to come clean on leak
It has been revealed that gas has been leaking from the Puffin oil field for about seven weeks.
Fury over Timor Sea gas leak
The Australian Federal Opposition has slammed the seven-week delay in the news of a gas leak at the Puffin field, in the Timor Sea, being made public, calling on Canberra to release all available information immediately.
The Kimberley Coast line is one of the last pristine wilderness frontiers of Australia. But it is the fishermen of Indonesia who it appears will be severely affected almost immediately.
Aussie oil disaster reaches Indonesia
A HUGE oil spill off northwest Australia has hit Indonesia, killing fish and destroying livelihoods in poor villages along the Timor Sea, a non-governmental group says.
Dead fish drifting off Indonesia's coast 2 months after underwater oil well started leaking

JAKARTA, Indonesia - Thousands of dead fish and clumps of oil have been found drifting near Indonesia's coastline more than two months after an underwater well began leaking in the Timor Sea, officials and fishermen said.
Australias opposition party appear to be using this as a political football, however it was their administration, not the current one, which awarded this particular lease to this company.
PTTEP, which operates oil and gas projects in 13 countries and has a market capitalisation of $US13.4bn ($15.65bn), was given approval by the Howard government to drill at the Montara oilfield in 2003.
Although newer leases have been awarded this company by the Australian government after the leak started.
New leases for oil spill company

The company responsible for an oil spill off the West Australian coast has acquired access to more Australian oilfields.

PTTEP Australasia has so far been unable to plug the leaking Montara rig in the Timor Sea despite numerous attempts over nine weeks.
PTTEP has also recently purchased additional stakes in the Timor Sea for further exploration and exploitation.
Thailand's PTTEP buys stake in Oiliver field in Timor Sea
For more information, Wikipedia have a very detailed page up on this.
Quite a good review of events from a local area reporter (Well from Perth)
Key questions in a 71-day disaster
Map of where Montara oil rig is
http://www.flickr.com/photos/skytruth/3885193640/in/set-72157622226354812/
And at the same time in the United States
Oil industry stages blitz to push offshore drilling
Update at the Enquiry :
PTTEP greed blamed for oil catastrophe
Drilling plan cut corners, inquiry told
Good oilfield practice not followed, inquiry told
Safety measures approved in 30 minutes
Timor Sea, the voiceless
Miscalculation and lack of support in oil disaster
Montara drill boss denies changing statement
Montara crew 'not told to install cap'