Thursday Night News: Bits and Blurbs, Cable, Catalogues, Conspiracies and -- Squirrel!
Submitted by

GreyHawk

on March 17, 2011 - 21:48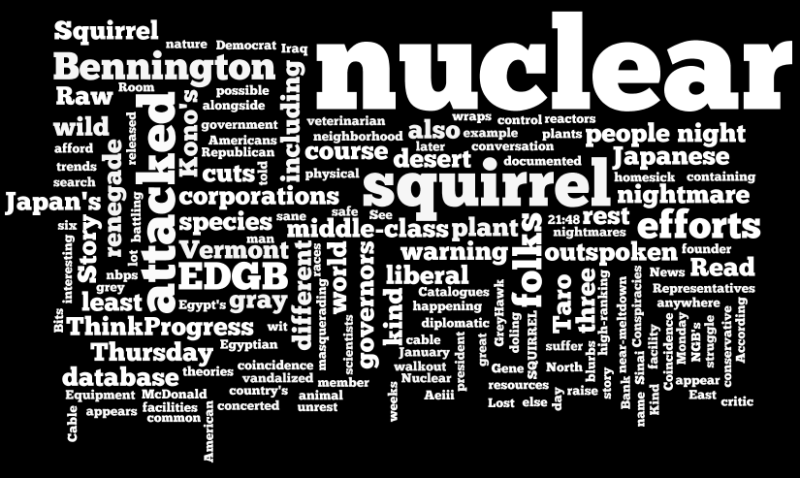 A Different Kind of Nuclear Nightmare
In this age of nuclear war, nuclear arms races, nuclear power and nuclear melt-down, it's no wonder that some folks suffer from nuclear nightmares. But there's a different kind of nuclear nightmare that await some folks. Via Raw Story,

As engineers and scientists struggle to control six Japanese nuclear reactors, three of which are in near-meltdown status, the world watches with horror.

But even as efforts continue in earnest across Japan, the search for why this is happening has already begun.

At least one man might have some theories.

His name is Taro Kono, a liberal Democrat and member of Japan's DIET, or parliament. Kono's father was the president of the liberal Democrats. He's been an outspoken critic of the country's nuclear program, and once resigned a high-ranking post in the House of Representatives in protest of the Iraq War.

And according to a US diplomatic cable released Monday night by The Guardian, he allegedly told American diplomats about coverups carried out in Japan's nuclear plants.

[...Read the rest on Raw Story...]
Taro Kono's outspoken nature appears to be giving the Japanese ministry a whole different kind of nuclear nightmare.
Lost Roots
According to Nourishing the Planet,

After a police walkout during Egypt's political unrest in January, the NGB's facility in North Sinai—called the Egyptian Deserts Gene Bank (EDGB)—was looted and vandalized by mobs targeting government facilities. Equipment was stolen and broken, including computers that stored EDGB's gene database containing 1,100 accessions from 750 wild desert plant species. "The EDGB database contains 750 wild desert plant species, including genetic resources not found anywhere else in the world," said Ismail Abdel Galil, founder of the EDGB.
It's a Coincidence, Not a Conspiracy
It's been a lot of work, but the folks at The Wonk Room over on ThinkProgress have documented some interesting trends that -- of course -- appear to be concerted efforts to gut the middle class. Of course, it's probably just a coincidence, masquerading as 'common sense' ('cuz it sure isn't safe, sane or honest policy). To wit,
ThinkProgress has been documenting conservative efforts to shift the burden of record budget shortfalls onto middle-class Americans, while simultaneously doling out tax cuts to corporations. While progressive governors have proposed raising revenue from those who can afford it, alongside painful cuts to programs, Republican governors have unveiled budgets that cut taxes for corporations and raise them on the middle-class and working poor.
Check out the rest of the story here.
Squirrel!
A "squirrel" can be a physical creature, or a great derailer of thoughts and conversation.
See?
But in Bennington, Vermont, it could also be a shout of warning - a warning that you're about to be attacked by, for example, a renegade grey squirrel:
A Bennington neighborhood is being stalked by a renegade gray squirrel, but a Vermont state veterinarian says it's possible the animal is upset because it's homesick for the people who raised it.

At least three people on East Street in Bennington say they've been attacked by a squirrel over the last few weeks.

[...snip...]

McDonald said the day after he was attacked he saw a neighbor battling a gray squirrel. He later learned that another person on the street had also been attacked.

[...Read more...]
And that wraps up the bits and blurbs for Thursday night. Namaste
...SQUIRREL! Aeiii!!!!!!