Obama, Media Owe Dr. Perez An Apology
Submitted by

DEFuning

on May 17, 2008 - 18:19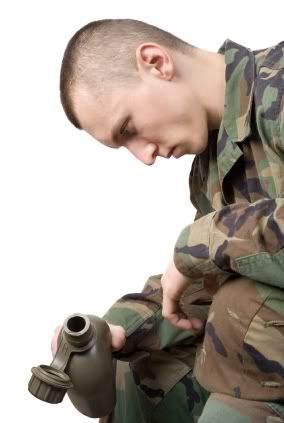 "To hear that a VA official is promoting misdiagnoses of soldiers to save money is unacceptable and is tantamount to fraud. " -- Letter from Barak Obama to Veterans Affairs Secretary James Peake
Obama is just plain, flat out wrong. There are no "misdiagnoses" to save money advocated for in this memo. It is Differential Diagnosis she is calling for. There may well be a fraud here but it is not Dr. Perez. It is fraud for the media and Obama to perpetuate a falsehood.
The Washington Post broke the story on Friday, which included emails from Dr. Norma Perez suggesting to her staff members that they "refrain from giving a diagnosis of PTSD straight out," because of the increasing costs of treating the disorder. -- From CBS News website
I have been a vocal critic of the actions of the VA and its legislative overseers in the treatment of veterans ,especially in regard to PTSD. However, I am appalled at the piling on of Dr. Perez and the poor judgment Obama has shown in his egregious allegations that she was advocating for "misdiagnoses". This demonstrates a failure to get adequate, expert information and also demonstrates an impulsive rush to judgment, weighing in on topics he is clearly ignorant about, and causing harm to a healthcare worker already burdened by an underfunded system which is being slammed by a tsunami of need.
Yesterday, I spent a good bit of time on the phone with Pia Malbran of CBS News in Miami discussing their coverage of this story and what I feel is their over the top, misinformed, and false conclusions regarding what Dr. Perez intended by her memo. Dr. Perez made a good ,solid, clinically appropriate call in her memo for the front line assessment clinicians to consider the Adjustment Disorder Rule Out PTSD diagnosis. Let me make my case to you so you will understand that what appears on its face to be a dirty rotten scoundrel attack on our veterans is nothing of the sort.
For all of you civilians (meaning non-clinical commoners) what Dr. Perez was calling for in her memo was for the assessment clinicians to pay extra close attention to their DIFFERENTIAL DIAGNOSIS. This refers to the process of diagnosis when a clinician looks at a set of symptoms and makes a call :it is like this diagnosis, but not like this, it has features of this, but not this, it could be this but fails to meet all the criteria so it might be this, or it looks like this but the CAUSE of the symptoms might be from a number of different sources. With anxiety symptoms presented by a service member--many of which are consistent with PTSD, one cannot make that call without ruling out other causes of those symptoms.
Everyone has their pantyhose in a twist alleging that Perez was telling clinicians to falsify the diagnosis by calling it Adjustment Disorder rule out PTSD. This is an absolute falsehood. Let me provide an example to illustrate the process:
Sgt. Joe presents to the VA with a set of anxiety symptoms that look like PTSD. The clinician documents that Joe just got back from Iraq three weeks ago and has had these symptoms for two months. A poor diagnostician would judge that "Wow this looks just like PTSD to me" and charts the diagnosis. Except for the fact that it fails to meet a critical criteria for a definitive diagnosis. An experienced, expert clinician would look at the same case and call it Adjustment Disorder r/o PTSD--which is to say "Gee it kinda looks like PTSD but I am not sure because he just got back and the aversive event was JUST a couple of months ago--maybe it is an Adjustment Disorder. I can't really tell right now so I must wait and gather more data." A Rule Out diagnosis is called a PROVISIONAL diagnosis--a temporary diagnosis until one can make a definitive diagnosis.
So why call it an Adjustment Disorder? Well, it is a normal reaction to stress and it resolves within 6 months. How do I rule out PTSD? Well, a good start is that if it doesn't resolve after 6 months it CANNOT BE AN ADJUSTMENT DISORDER. And it is probably PTSD. A provisional diagnosis would not prevent a subsequent diagnosis of PTSD. A provisional diagnosis should never be used to deny service connected disability benefits for it only says that a solid diagnosis has not yet been made. The proper use of a provisional is to allow time to come up with a definitive diagnosis. See why this whole hoopla is crapla?
PTSD, contrary to some media reports which report that "First, PTSD is NOT mental illness" IS a very serious illness. Just ask a vet with it. Or a family member of one. But there is a very good reason to be very careful with laying it on someone fresh from the aversive event: Any diagnosis becomes a permanent part of a legal record--your medical record. It is subject to subpoena and in some cases can complicate life choices. There are current movements to make mental illness a reason to deny one the right to carry a firearm.
One does not make a diagnosis of PTSD lightly but clinicians both stateside and in the theatre often seize upon the "diagnosis du jour" and see it in everyone presenting for treatment--especially when you are being slammed and don't have the time or resources to make a more sensitive and accurate diagnosis. It happens with children and the ADHD/ADD diagnosis and is now beginning to be seen with BiPolar Illness in kids as well. Stateside, many many non- military patients are presenting with PTSD like symptoms and telling their therapists that they are certain that they have the disorder when in fact they are having a normal reaction to an aversive stressor that may very well resolve in 6 months. For Perez to remind her clinicians to take care with their diagnoses and to consider that they may be seeing an adjustment reaction is APPROPRIATE. Perez said that they didn't have the resources to make the PTSD diagnosis. I don't hear anybody squawking about THAT except me! Why don't they?
It is a fact that they are getting slammed with a huge number of cases. It is a fact that these cases will cost a great deal of money over the next decades for PTSD is extremely resistant to treatment and there is no known cure. It is a fact that a good clinical manager of any healthcare facility keeps their eyes on clinically appropriate diagnosis AND utilization management--making sure services are not over utilized OR under utilized. She was just doing her job and she made a good call. The VA official who sanctioned her may well have been trying to stem the PR bleed on a very hot button topic. It is very difficult to try to explain differential diagnosis to civilians. Stop the bleed. But they hung her out to dry just as Obama is piling on to make a case for himself as being all Hallmark card on veterans healthcare. The media is wrong . Obama is wrong. Perez made a totally appropriate call. Differential diagnosis is good medicine. But is obviously a dangerous weapon in the hands of the ignorant.
The REAL story with diagnosis and PTSD is the use of Personality Disorders as a pre-existing condition that would deny a veteran benefits precisely because it so interferes with the differential diagnosis process. Personality Disorders frequently feature manipulativeness, gaming, untruthfulness, malingering etc--in other words, you may not be able to believe a word they say. So how can you make a PTSD diagnosis if they are lying to you? That would give them a clinical basis to deny benefits and, according to my veteran buddies, IS being utilized to deny benefits. I am still not convinced that one cannot be a Borderline Personality Disorder and still be at risk for PTSD. I cannot find that chapter in the DSM-IV-TR but that is the wiggle room the VA allegedly is using to deny a service connected disability to some veterans.
Obama and Media, you need apologize to Dr. Perez. She is busting her chops for our military and ex-military and you, from your lofty non-military or mental healthcare experienced perch, need to get the facts Jack before you attack.