Who, meez?
Submitted by

GreyHawk

on August 16, 2008 - 09:27
Why are you just standing around?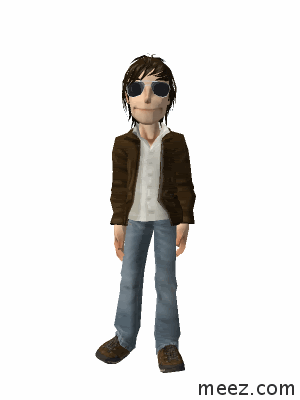 If you're a writer -- aspiring or actual -- you might find it useful to create a virtual representation of some of your characters. The one pictured above was generated on Meez,1 but there are other great options too. Several are listed below the fold.
:: ::

Over the past few years, I've come across a couple of neat tools worth holding onto that helped me quickly and cheaply generate images that I could use to build characters, scenes and creative encounters around. Here's a list of just a few:
FaceGen Modeller: Create realistic human faces -- and realistic inhuman faces -- using this software by Singular Inversions. While the paid license version is $299, there is a free version that has nearly identical capabilities. From the free version's download and information page:




_____

The free version has the full functionality of the paid version except for exporting to external 3D formats and displaying the 'SI' logo on the forehead.

It runs under Windows XP and Vista.

The file is 28 MB.

_____

Squirlz Products: I specifically recommend Squirlz Morph and Squirlz Water Reflections.2
Free 3D stuff: DAZ Studio, Bryce 5.5, Google Sketch-up
Morpher (Shareware, not freeware)
yWriter by Spacejock Software
Celtx -- a high-quality free product with a bunch of neat features for a newbie.
With those products, you can spend hours visualizing your characters, scenes and even create some interesting transitions. Feel free to add to the list in comments, and provide any reviews for software you've tried that helps inspire you to keep writing and creating.
If you're looking for some slightly different inspiration, you could always check out the site I stumbled across just now as I was working to assemble links for this post:
If all else fails, then try to get outside if it's nice, find a place with some fresh air and breathe deeply.

Today is Saturday, 16 August 2008. Good morning. :)
________________________
Footnotes
________________________
| | | |
| --- | --- | --- |
| Character name: | | Adrian Freedman |
| Appearing in: | | Sync (working title) |
| Genre: | | Science-Fiction/Fantasy |
| Author(s): | | Judith-Lee Dunn, John Bourke |
| Expected release: | | 2008/2009 |

From the product info page:


_____

Sqirlz Morph provides a more 'traditional' approach to warping/morphing based on the use of control points to mark key image features.

Any number of images can be morphed together.

_____

And


_____

Freeware to add rippling water reflections to images and video clips

_____