Toowoomba is Australia's second largest inland city, and its largest non-capital inland city.
With an estimated district population of 128,600.
There are more than 150 public parks and gardens in Toowoomba
Elevation: 691 m (2,267 ft)
Toowoomba sits on the crest of the Great Dividing Range - a mountain range.
But today, right now in fact, flash floods have taken the lives of 4 people.
Four confirmed dead in Toowoomba flash flooding
Police have been able to confirm four people have died, including a female pedestrian who was swept to her death as flash floods struck Toowoomba, west of Brisbane.
This was a town that four years ago was under such severe water restrictions that consideration was given to recycling their own waste water.
Toowoomba says no to recycled water
GlowNZ has been running an incredible series on the terrible floods affecting Queensland, the second largest state in Australia in terms of area, third in terms of population :
Queensland Floods - Bigger than Germany and France combined
Queensland Floods - 1 dead , 2 missing. Countless heartaches.
Queensland Floods - Waters rising, looting, and death
Queensland Flood Updates
Recent rainfall has created these conditions, adding to the horror affecting the people in this state.
This is the flood graph over the past few hours for the Lockyer Creek, downstream of Toowoomba - note where major water level danger is.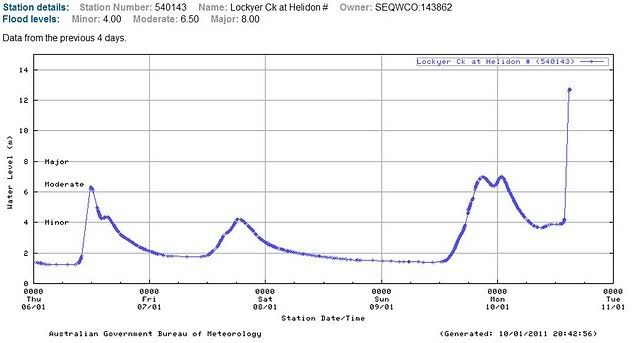 Youtube videos from locals :
And a shot of an underwater McDonalds.
http://www.facebook.com/photo.php?fbid=10150160012012925&set=o.131892186875737
Wall of water hits Australian city
Downstream of Toowoomba is Brisbane, the states largest city with a population of 2 million people who, after speaking to a friend up there, have been warned that a 7 meter (22 feet) wall of water is headed towards Brisbane.

There was a comment just posted on Twitter asking the question, is this what climate change looks like?
Personally, I wish I believed that it wasn't.